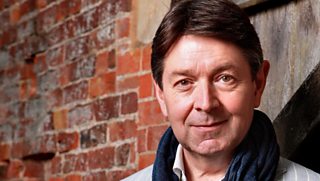 Dear Archers listeners,

I'd like to share with you all my official statement that has been released today:

'It is with huge sadness that I leave The Archers after 27 years. Nigel Pargetter was a joy and a privilege to play, from 'Mr Snowy' to proud father. His enthusiasm, charm and love of life helped make Ambridge a happier place.
'On a personal note, I will sorely miss working with so many old friends and colleagues, especially Alison Dowling who plays Nigel's Lizzie.
'May I take this opportunity to thank all those listeners who endlessly communicated their loyalty, appreciation and affection towards Nigel and me. I'll miss him!'

It would be wrong of me to pretend that I was other than shocked when Vanessa [Whitburn, Archers editor] phoned with the news on a damp November 5th. Fireworks night - rather apt I thought! The hardest thing has been to keep it under wraps, not just from friends and family, but colleagues too. Now at least all is out in the open...
It's too soon to highlight memories. They go back to heady days in the 80s. William Smethurst created a wonderfully affectionate, vulnerable over-privileged young man causing havoc to the Archer household in scenes that were such fun to play.
Scenes of course with Jack May (Nelson) and Mary Wimbush (Julia), laterly with Richard Atlee (Kenton). But always Ali...
There was something of the Peter Pan in Nigel. He never really grew up.
To play my death scene? Very odd, but much harder for everyone else, I think. I've never noticed those behind the scenes so emotionally charged before. I just concentrated on what I had to do and did it to the best of my ability, as I have always done.

But I am a working actor and life must go on.
Except for a short break when the part was played by Nigel Carrington, Graham Seed played Nigel Pargetter from the arrival of the character in 1983 to his death on 2 January 2011.

Picture shows Graham Seed (Nigel Pargetter)
Graham and Alison Dowling will be interviewed on BBC Breakfast tomorrow morning (Tuesday 4 Jan)
Graham appears in Accolade, at The Finborough Theatre, London, 1 to 26 February