Roy and Tracy's passionate kiss in The Bull as the clock struck midnight on New Year's Eve has caused quite a stir in Ambridge. Could locking lips at a moment as significant as this cast the dice for 2017?
Imagine a Horrobin-Tucker union: it could bring forth a new, unparalleled power couple in Borsetshire. Lilian and Justin may need to watch their backs!
Are Roy and Tracy really compatible?
Both born and raised in Ambridge. They share a detailed knowledge of the local area as well as an appreciation for the countryside. As children they both had a penchant for mischief. When Hayley and Roy were dating, Hayley learned from her future mother-in-law, Betty, that as a boy Roy was a little horror. Meanwhile, in her youth Tracy earned the nickname "Terrible Tracy"!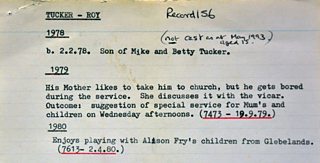 The first entry for Roy Tucker in The Archers old archive system
Into adulthood this similarity seems to end as professionally they have very different profiles (but opposites attract, right?) Roy has an established career in hospitality with years of experience at Grey Gables. While a short stint at Lower Loxley ended badly, costing him his marriage after his affair with Elizabeth, he wasn't out of a job for long, re-joining the management team at Grey Gables.
On Tracy's CV there is an impressive array of experience but it's all rather short-lived. Her previous employers include the Bridge Farm dairy, Loxley Barratt school, The Cat and Fiddle, as well as the café at Lower Loxley.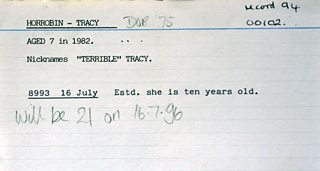 Tracy Horrobin's first record in The Archers old archive system
When it comes to family there are resemblances to be found. Both Tracy and Roy are close to their fathers – Tracy lives with hers, Bert, at 6 The Green while Roy maintains regular contact with his dad, Mike, who's moved away with his new family. Neither of their mothers is still alive.
Furthermore, Roy and Tracy both have experience of being single parents. When Kate high-tailed it to South Africa, Roy was left holding their baby – two-year-old Phoebe. Now she's at university, those days may be over for Roy but he must be able to empathise with Tracy who, since splitting from her partner Den in 2012, has been raising her daughter and son, Chelsea and Brad, by herself.
Ah, but could we have inadvertently stumbled across a deal-breaker here? We know Roy is a dedicated Aston Villa fan, he's got the replica shirts to prove it. Any mention of Tracy's daughter Chelsea may rub Roy up the wrong way considering his team's recent performance against Chelsea. Would Tracy, in an attempt to ingratiate herself with Roy, consider changing her daughter's name to Aston Villa?
Food for thought as these two figure out what's between them after their display of affection in the first moments of 2017. If Roy's in two minds about meeting Tracy again he does have his handy spreadsheet to help him assess whether Tracy could be the one for him.