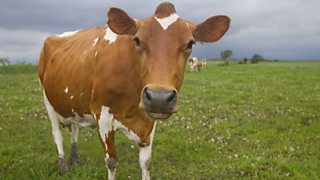 David Archer was surprised to discover that his grandfather Dan once ran a milk round from the family farm. No one in the immediate family had any memory of it. Even more baffling, it was known as an 'open-air dairy', a term that was new to David. Our agricultural adviser explains the real-life dairies that we have based this on.
In fact, there were several hundred of these farm-based dairies back in the early 1930s. A decade earlier, farm prices had crashed following the mini-boom that accompanied World War One. Dairy farms were particularly hard hit, with many going out of business.
Enter an innovative farmer-inventor called Arthur Hosier. He came up with a revolutionary idea. He would keep his cows out on pasture all year round, so saving the heavy labour costs and disease risks associated with keeping them indoors for the winter months.
To make the system work, he designed a mobile milking platform (a 'milking bail') through which cows could be milked out in the field. It was equipped with generator, refrigeration plant and vacuum pipeline, to take the milk direct from cow to churn without coming into contact with the air.
Hosier's friends thought he'd gone off his head when he bought a big stretch of gorse-covered Wiltshire down-land and stocked it with cows. This was at a time when many dairy farmers were going bust. But the intrepid pioneer went on to make his fortune by selling quality milk direct to the public.
Because his costs were low – and there was no middleman – it remained affordable to most people even in hard times.
Out in the open air, his cows stayed remarkably free of disease, including TB which was rife among dairy herds of the time. His milk was certified so pure by the county medical authority that some was sent direct to London hospitals for patients who were too sick to tolerate everyday milk. We've reflected that in the photo of Dan delivering to the local cottage hospital.
Growth
So successful was the system that by the early 1930s several hundred farmers had adopted open-air dairying. Among them was farmer, author and broadcaster AG Street, at one time a regular on BBC Radio's Any Questions. In his best-selling book Farmers Glory he tells of setting up an open-air dairy when wheat prices collapsed. From then on he spent much of his time knocking on doors in the local towns and villages, taking orders for his milk.
He later wrote that it "was a miserable form of existence. For my manifold sins I am now the slave of empty bottles. What a life!"
But for all its drudgery open-air dairying made money for farmers when little else did. It also supplied customers with nutrient-rich, pasture-fed local milk that was usually just a few hours old. Today's supermarket milk couldn't hold a candle to it.
With the coming of the Milk Marketing Board, which guaranteed farmers' prices, the entrepreneurial spirit was quenched. Dairy farmers were content to leave it to others to sell their product. Hosier's revolutionary system was forgotten.
Resurgence
Today a handful of new pioneers are rediscovering its benefits both for consumers and their own profits. In Dorset, two young farmer-entrepreneurs – Tom Foot and Neil Griggs – have established a new outdoor herd producing pasture-fed milk. They have designed new mobile milking units based on the principles of Hosier's model.
In Hampshire, farmer Nick Snelgar is developing a mobile milking and processing plant for use by small herds. His aim is to bring back local, grass-fed milk across Britain. He also hopes it will open up new business opportunities for young people in rural areas.
Between the wars, hard times for milk producers heralded a new golden age for dairy farming. At the same time it put a wonderful, nutritious food on the doorsteps of austerity Britain. Could the tough times being experienced by today's dairy farmers lead to a similar renaissance in local marketing? It would be good to think so. I for one can't wait to experience the rich, creamy taste of fresh, grass-fed milk.
Graham Harvey is The Archers' agricutural adviser.
Nick Snelgar talks to Graham Harvey about his plans (video)