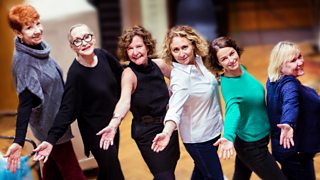 Calendar Girls cast in the studio
Christmas, 2015: Ambridge Drama Queen Lynda Snell gave us Tim Firth's much loved comedy drama, Calendar Girls. As with 2014's Blithe Spirit, Calendar Girls is a fully produced Radio 4 drama that can be enjoyed by fans of radio drama and Archers listeners alike...
This version of Calendar Girls is the radio premiere of the story that took the world by storm as a successful film and a hugely successful play.
A group of friends from a Yorkshire WI join together to raise money by posing naked for a charity calendar. In doing so, they test their friendships and the boundaries they each have set themselves.
Cheeky, tear-jerking and hilarious, Calendar Girls is a heart-warming seasonal treat!...
Calendar Girls was first broadcast on BBC Radio 4 on Sunday 27th December at 7:15pm, and again on Monday 28th December at 2:15pm.
Sian Phillips starred in the production and shared her delight:
"Had I been asked to name a most wonderful, surprising Christmas gift never could I have conjured up an invitation to spend Christmas in Ambridge. When I heard those words I cried an immediate and joyful 'Yes!' After all I'm at home in Borsetshire... What a gift!"
Archers Editor and director of Calendar Girls, Sean O'Connor, shared his thoughts:
"There were so many parallels between this story and our characters' lives in Ambridge - the 100th anniversary of the WI, Lynda's annual Christmas play - and the fact that Calendar Girls is one of the most popular plays with amateur drama groups in the UK - it seemed like an extraordinarily good fit."
Here's a photo of the cast in studio rehearsing a bit of singing - and responding to one of the lighter notes from Sean.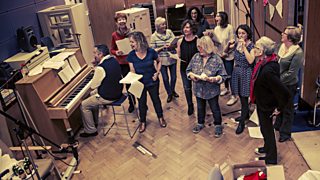 Calendar Girls cast in studio (2015)