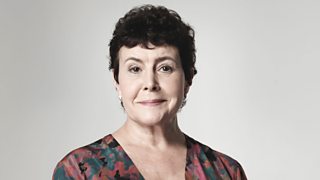 Sara Coward who played Caroline Sterling in The Archers for 40 years has died.
The actress had been receiving palliative care after being diagnosed with terminal cancer in the autumn last year. She passed away on Sunday.
Editor of The Archers, Huw Kennair-Jones, said, "Everyone in The Archers family is very sad today. Sara was a gifted actress with a unique voice.
"Even when she was navigating the tribulations of Caroline's love life, Sara's deft wit and clever characterisation meant Caroline was never solely defined by her relationships but always as a fully rounded, intriguing woman of substance. We will all miss her both professionally and personally."
Sara's first appearance as Caroline was in 1977 when she turned up to work at The Bull with her Great Dane, Leo, by her side. The dog took a liking to landlord Sid Perks but the feeling wasn't mutual. Nevertheless, Caroline became a regular face behind the bar and a well-known voice in The Archers.
During Sara's time in The Archers cast, Caroline went from barmaid to manager and then owner of Grey Gables Hotel and Health Club but her character is probably most well-known for her string of doomed relationships.
Sara, who was "very fond" of Caroline, was sympathetic of her character's love life, "The poor girl was only trying to find the right man; she just happened to search in some pretty peculiar places. Her affair with Brian Aldridge has to be an all-time low", she said.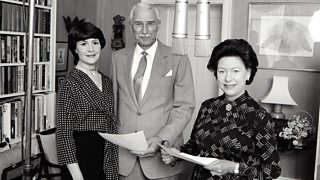 Sara Coward and Arnold Peters with HRH Princess Margaret in 1984.
When asked about her favourite moments as Caroline, Sara recounted going to Kensington Palace to record with Princess Margaret who was appearing in The Archers at a charity gala held at Grey Gables. It was the first time a member of the Royal family had taken part in a fictional drama.
Sara recalled, "Her Royal Highness was charming, "I have this terribly flat voice" she told me apologetically, with a ready sense of humour and a dry wit.
"We did one rehearsal and the producer said, "That's very good, Ma'am, but do you think you could sound as if you were enjoying yourself a little more?" She looked him straight in the eye and said acidly "Well, I wouldn't be, would I?""
That wasn't Sara's only encounter with royalty. Sara also played opposite the Duchess of Cornwall when she made an appearance in the programme's 60th year.
Sara's last appearance in The Archers was in September 2016 when on a visit to Grange Farm Caroline conveyed her dismay at seeing Joe and Eddie manoeuvre a family heirloom of hers in the direction of the cider clubhouse.
In the last months of her life Sara encouraged people to smile more. She called it her SM:)E campaign. On social media she wrote, "Make someone feel good today just by being kind. This can be as easy as simply sm:)ing at people, or doing something more to help them in some way. And finding out how good you feel as a result."