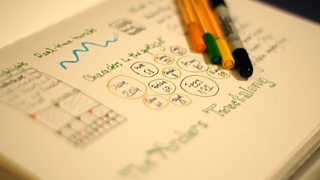 If you can bear to hear it again, here is that awful moment when Nigel fell from the roof.
Discussion on The Archers Message Board and Twitter ran rife. There were over 10,000 tweets during the half hour episode, collected by our special graphic. While a team in London ran that, Archers editor Vanessa Whitburn and I tried to keep abreast of the flood and send the odd tweet ourselves.
Of course, we don't actually know what was the outcome of Nigel's fall, or how little Henry - or Helen - will progress after the dramatic birth. As ever with The Archers, the only way to find out is to keep listening.
The original version of this blog post incorrectly named the baby as Harry. Please accept my apologies for any confusion.

Keri Davies is an Archers scriptwriter and web producer.
The picture shows an early design for the graphic which monitored activity on Twitter during the episode
Follow @BBCTheArchers on Twitter
Or for fuller-length discussion of the programme try The Archers message board