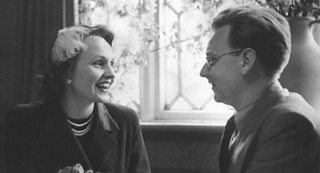 Ysanne Churchman and Norman Painting (Grace and Phil Archer)
We remember one of the most notorious moments in The Archers long history.
On 22 September 1955, Phil Archer had arranged a small dinner party at Grey Gables to celebrate the offer of a directorship by his employer and father-in-law George Fairbrother.
The other guests were John Tregorran, Carol Grey (who was later to marry John), Reggie and Val Trentham, and Phil's young wife Grace. Phil and Grace had been married for six months. 
At the party, Grace noticed that one of her earrings was missing and returned to the car to find it. But Grace never got as far as the car. As soon as she was outside, she could see that there was a fire in the stables.
Grace's immediate reaction was to try to rescue as many of the horses as she could. After calling for help, she rushed in and started to guide the animals to safety.
Grace was quickly joined by the others. Between them they managed to get most of the horses out. But Midnight, who had already been saved, slipped her head collar and in panic returned to the blazing barn. Grace went in after her. But suddenly part of the roof collapsed.
Phil and John dashed in and pulled Grace from the fire, but she had been badly hurt. Despite her injuries Grace gained consciousness long enough to tell Phil that she loved him. The ambulance and fire engine arrived and Grace was taken to hospital. Phil went with her. 
Later a wretched Phil came home to Brookfield. He had to tell his father and his sister that Grace had died in his arms on the way to the hospital. 
Keri Davies is an Archers scriptwriter and web producer.
The only surviving member of that fateful dinner party is Carol Tregorran. Learn more about Carol in our Who's Who.
Carol is played by Eleanor Bron, who talks about her impressions of The Archers, and joining the programme.