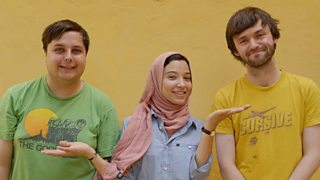 Meryem Abouloufa
Meryem Abouloufa is from Casablanca. Her voice has a dreamy, measured tone that will please fans of Natalie Merchant and Stina Nordenstam. She was recently recorded in Marrakech, Morrocco by a team from Belfast – travelling out there with the British Council. The delegation included members of And So I Watch You From Afar, Start Together Studios and No Dancing Records.
A portable studio was delivered, 15 songs were recorded in 6 days and by all accounts, it was emotional. There's a lovely symmetry in this story in that for many decades, artists from Northern Ireland complained that the system was against them, that there were few facilities and that the infrastructure was bust. Now we have evidence of some confident guys from these parts, actively helping another music community. That's Meryem in the centre of the photo, with Rocky O'Reilly and Jimmy Devlin.
It was so hot in the makeshift studio that they windows remained open and so during the Meryem sessions, you can hear the birds singing in the lime trees outside in the Riad. Delightful. She sang an eerie version of 'Jealous Guy' and another tune, 'Apologise', which is an original. Love it.
Manic Street Preachers – Show Me The Wonder (Sony)
VerseChorusVerse – Your Truth Could Be Their Lie (white)
Willie Tee – Walking Up A One Way Street (Night Train)
Fryars – Cool Like Me (679)
The Clameens – She's Got My Heart (white)
Television – Venus (Elektra)
Vampire Weekend – Unbelievers (XL)
Kowalski – Forfey (white)
Chris Bell – I Am The Cosmos (Ryko)
VerseChorusVerse – Help Myself (white)
Scott And Charlene's Wedding – Spring Street (Fire)
Belle And Sebastian – Your Cover's Blown (Rough Trade)
Arthur Crudup – My Baby Left Me (Bluebird)
Foy Vance – Closed Hand Full Of Friends (PIAS)
Glen Campbell – Guess I'm Dumb (Capitol)
Meryem – Apologise (white)
Van Morrison – These Dreams Of You (Warner)
Roddy Harte – Cold City Avalanche (Middle of Nowhere)
Screaming Jay Hawkins – Heart Attack And Vine (Demon)
Alela Diane – (About Farewell)
The Carter Family – Lonesome Pine Special (Proper)
Joseph Arthur – I Used To Know How To Walk On Water (Real World)
Boards Of Canada – Come To Dust (Warp)
Austra – Painful Like (Domino)