Movies Week premieres tonight!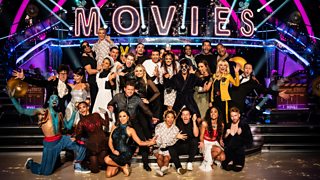 Grab you popcorn and dim those lights... it's time for Strictly Movies Week!
Get ready for some blockbuster routines from our dancing duos, including a Magic Mike-themed Cha Cha, a Downton Abbey Foxtrot, a Poké Doble (yes you read that right!) and our first Couple's Choice routine of the series to an Aladdin classic.
To sum it up, It's going to be a night of cinematic creativity you won't want to miss!
But as well as having fun getting into character, our couples will be focused on keeping their place in the competition for yet another week. Their fate lies in your hands, so be sure to vote when Claudia announces the vote is open towards the end of the show.
So, who can't you wait to see bring Hollywood to Strictly tonight? Tell us in the comments and be sure to follow us for backstage pics, plus live reactions from our couples on Instagram, Twitter and Facebook.
See you in the Ballroom at 7.10pm on BBC One!