Goodbye Blackpool, hello Week 10!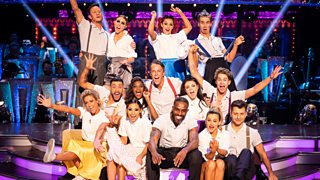 We're still riding high on the excitement of Blackpool (how could we ever forget all those incredible routines?!), but now it's time to move into the home stretch of the competition. Brace yourselves for Week 10!
Our remaining seven couples have their eyes on next weekend's Quarter Final, all hoping to secure their place by proving themselves in the Ballroom tonight. Hot off of their first 10s last week, Charles and Karen are taking on a Tango, while Joe and Dianne are giving the Couples' Choice category a spin with a Street/Commerical routine.
Ashley and Pasha will be keeping their fingers crossed for a repeat of last Saturday's 40 with a Hot Hot Hot Samba, plus Stacey and Kevin are ready to heat up the Ballroom with their first ever Paso Doble. We cannot wait!
If that wasn't exciting enough, all of our couples will be taking to the floor for our first ever Lindy Hop-a-thon, grabbing any extra points they can from the Judges. It's going to be an all-kicking, all-flicking dance extravaganza!
Make sure you're watching it all tonight on BBC One at 6.50pm, and keep up with all the behind-the-scenes happenings on Instagram, Twitter and Facebook before, during and after the show.
*Please note comments on this blog will close after 48 hours.