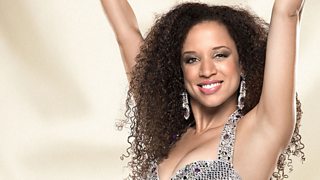 *Breaking* news... but not too broken we hope.  Natalie Gumede is suffering with sciatica and a compressed disc in her back after an old injury resurfaced this week.
Natalie, who is currently at the top of the Strictly leader board with 36 points, has had to miss two days of training to fit in an MRI scan, physio treatment and epidural this week.  Although she and her dance partner Artem Chigvintsev haven't had as long to rehearse, Natalie will still be dancing on Saturday night. 
Natalie is ecstatic that she will be able perform this weekend and we wish her a continued recovery!