It's Week Four of Strictly 2013! The pressure will be turned up a notch as the third couple must go this Sunday. Today we can officially reveal the music and dances each couple are performing on Saturday night!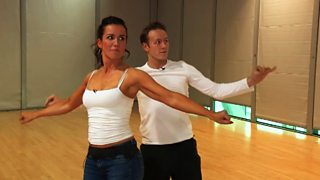 Ashley and Ola will perform the Viennese Waltz to Sarah McLachlan's emotional 'Angel'.
Patrick and Anya will Cha Cha to pop classic 'Mercy' by Duffy.
Abbey and Aljaz are going to Tango to Florence and the Machine's anthemic 'Spectrum'.
Rachel and Pasha will do the Quickstep to Imelda May's Rockabilly-style hit 'Johnny Got A Boom'.
Dave and Karen will Waltz to The Eagles' 'Take It To The Limit'.
Fiona and Anton are set to Rumba to Westlife's number one hit single 'A World Of Our Own'.
Julien and Janette will Samba to Spice Girls' Latin inspired hit single 'Spice Up Your Life'.
Deborah and Robin's track is Eurovision classic 'Making You Mind Up' by Bucks Fizz. Team Debwin will be doing the Jive.
Sophie and Brendan will do the Foxtrot to 'Cheek to Cheek' by Dick Haymes.
Mark and Iveta are going to Cha Cha to MC Hammer's hit track 'U Can't Touch This'.
Susanna and Kevin will hope to sizzle performing a Salsa to Shakira's hit single 'Whenever, Wherever'.
Ben and Kristina's will Salsa to Black Crowes' version of 'Hard To Handle'.
Natalie and Artem be dancing the Quickstep to Usher's club hit 'Yeah!'
Let us know how you think the Strictly couples will handle this week's tracks. Who are you most looking forward to seeing?