Jazz hands at the ready... it's Musicals Week!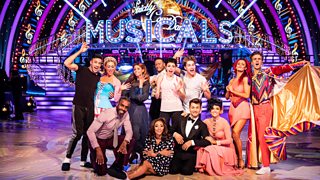 That's right people, we have now reached Week 11 of the competition, meaning we're just two shows away from crowning our Strictly 2018 winner! Can you believe it?
Our remaining six couples are not going down without a fight though, putting everything they've got into their Quarter Final routines - and on top of all of that, it's Musicals Week! So dust off your top hats, pull out your tailcoat and slip on your dancing shoes for some seriously sensational musical numbers.
Charles and Karen are giving us their version of West Side Story, Faye and Giovanni are performing a Sound of Music puppet show, while Stacey and Kevin are sure to get us all feeling emotional with a Les Misérables themed American Smooth. Not forgetting our amazing ensemble of Pros, who will kick off proceedings with a magnificent Mama Mia! extravaganza.
It's the hottest ticket in town, and you'll be able to get a front row seat tonight at 7.05pm on BBC One. See you there!