One half of the two Hairy Bikers, Dave Myers has traded in co-presenter Si King for pro-dancer Karen Hauer. But can she keep his engine ticking over to ensure the ultimate performance each Saturday night?
Racing his way to joint bottom of the leader board alongside Tony Jacklin, Dave scored 16 for his Cha Cha Cha in Week One. There was improvement the next week with 17 for his American Smooth. King of cuisine Dave had the audience eating out the palm of his hand, but not so much the Judges with Bruno commenting, "Talk about cooking up a storm. You're cooking up a stink my darling." 
Week Three saw Dave and Karen make a U-turn back to the lower scores of their first performance, getting just 16 for their Paso. 
Keep supporting Team Hauerly Daveson by posting your comments and messages below!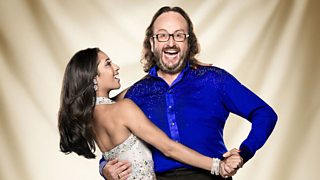 Dave and Karen both love cooking but will they be able to rustle up a treat on the floor