The Judges turned up the heat in the ballroom for the Quarter Finals of Strictly. Extra pressure was applied this week as our couples performed TWO dances in one night! This saw the return of the 'Swingathon' earning our couples extra points in the no rules, no holds barred, bonus round!
The top performers on the night were Abbey and Aljaz's Viennese Waltz. The judges were delighted by their dance to Tom Jones' 'Delilah'! The A Team were awarded 37 points!
Hot on Abbey and Aljaz's heels where Patrick and Anya who scored 36 points for their sensual Rumba that got us all hot under the collar. It might have been a bit hot for our head Judge though! "It's the ballroom, not the bedroom. It all got a little bit full on" - Len
Ashley and Ola's saucy Salsa was hot, hot, hot! The Hollyoaks star received good praise for his hip action, earning 35 points. Natalie and Artem's Paso Doble was full of drama and tradition. It was aimed towards the ballroom purists including Len, who certainly put the strict in Strictly tonight!
Susanna and Kevin found themselves in the bottom two on the leaderboard before the Swingathon with 32 points. Sophie and Brendan earned 34 points performing a classy and decadent 80s themed tango to Madonna's Material Girl.
Catching their breath for the 'Swingathon', Natalie and Artem were victors in Strictly's dance challenge, winning and extra six points to their leaderboard tally! Second were Patrick and Anya. Sophie and Brendan finished third.
These results changed the make up of the final leaderboard, with Abbey slipping down and Patrick and Natalie taking the top spots.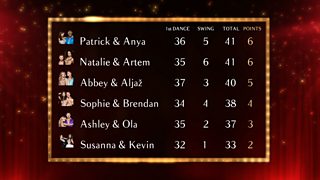 Who will be in the dance off tomorrow? Let us know what you think in the comments below.