It Takes Two: back and bigger than ever!
This autumn It Takes Two is back with more exclusive access and backstage gossip from the Strictly stars and studios than ever before. Dazzling host Zoe Ball will be returning to host the daily half-hour shows, and this year you're going to be treated to a longer hour-long show every Friday too!
Filmed in front of a live audience, the Friday show will have even more live action, punditry and sparkle. Each week, a familiar Strictly face will report live from Elstree studios with exclusive backstage access to rehearsals ahead of the weekend's main show. They'll catch up with the celebrities, dancers and the rest of the Strictly team to get the latest news and action as it happens – straight from Strictly HQ!
And if that's not enough, there's another reason to celebrate. Professional Strictly dancer, Joanne Clifton, will also feature regularly on the show as a dance expert to give her unique (and we expect hilarious!) insight into the week's performances and events. "So bloomin' excited!" says Joanne, "Can't wait to join the It Takes Two team and work with Zoe and the gang who are all ace. This is a childhood dream come true, it's something I've always wanted to do!"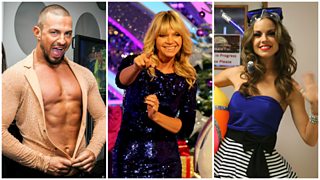 Robin (left) and Joanne (right) will join Zoe on It Takes Two as regular expert guests
Also joining Joanne and It Takes Two favourites Karen Hardy and Ian Waite will be popular professional dancer, Robin Windsor, who's looking forward to it too: "I'm thrilled that I'm returning to the Strictly family and I'm really looking forward to bringing lots and lots of FUN to It Takes Two this year - it's going to be an amazing series! I can't wait for it to get started."
It Takes Two is set to return on weeknights on BBC Two this September. We're pretty excited to say the least. And so is Zoe: "I can't wait to get back into the It Takes Two Glitterdome, my home from home, and dust off the sparkly shoes and jumpers and start grilling our glorious strictly Class of 2015 daily on their trials and tribulations and tangos - and what a line up so far! My gorgeous dance partner Ian Waite and our Queen of Choreography Karen Hardy are extremely excited to welcome Joanne Clifton and Robin Windsor to the bosom of our beautiful ITT extended dance family, no rhinestone will go unturned as far as gossip and trivia and anything strictly related is concerned. I love this job. I'm counting down the days…"
We are too, Zoe. Roll on September!