Week Five has arrived!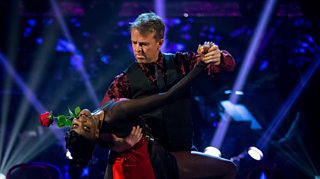 How are we a whole five weeks into the show already?! Time does fly when you're having fun, fun, fun!
And what a fun show we have in store for you tonight. Graeme's tackling the Tango, Kate's spinning into the Viennese Waltz and Ashley's ready to Rumba, all to a mix of great tunes, old and new. We'll also see two couples take on the Couple's Choice category for the first time ever on Strictly, so keep your eyes open for fresh and exciting routines from Charles and Lauren.
Plus Dancing With The Stars winner Alfonso Ribeiro will be stepping in while Bruno's away, so they'll have a whole new Judge to impress. No pressure guys! With our Halloween special up next week, they'll all be hoping to nab those top marks to help see them through.
Make sure you vote to save your favourite when the vote opens at the end of tonight's show, either online (register now right here) or by calling the numbers on screen.
All that's left to do now is get ready for show time! We'll see you in the Ballroom...