What an amazing show! Strictly got serious this week. The heat was on because one couple must go!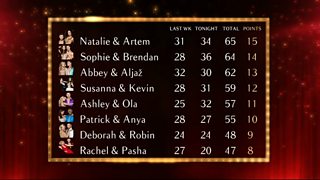 Sophie and Brendan's show-stopping Charleston to 'Rock It To Me' by Caravan Palace stole the show, receiving an incredible four nines, a record for Week Two in the history of Strictly Come Dancing!
Last week Team SoCo scored 28 points from the Judges, achieving a total of 64 points, only one point behind Natalie and Artem who top the leader-board with 65 points. Team Nartem's Waltz to 'If I Ain't Got You' by Alicia Keys, wowed the Judges earning themselves 34 points tonight.
There were more success stories tonight with Abbey and Aljaz cheeky Cha Cha to JLo's 'Let's Get Loud'. The model couple scored 30 points, 62 points in total.
Susanna and Kevin thrilled the Judges with their Tango to Bruno Mars' 'Locked Out Of Heaven', earning Team Kevanna 31, 59 in total.
Ashley and Ola's also had a great second week with a classy American Smooth, winning a well-deserved 32, 57 in total.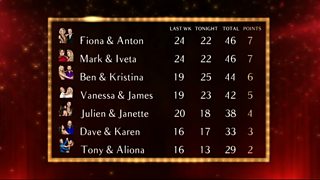 The two couples that are at the bottom of Week Two's leader-board are Dave and Karen and Tony and Aliona.
The Judges thought that Dave and Karen's American Smooth to 'How Do You Like Your Eggs in the Morning?' was a bit scrambled. They received 17 points, 33 in total.
Tony and Aliona's Charleston only received 13 points tonight, 29 in total. Backstage after their performance, Aliona claimed that the Judges were watching a different dance altogether.
Do you think Len and Co were too mean to Dave and Tony? Who do you think will be the first to leave Strictly 2013? Tune in and find out who will stay and who will go!