Get ready to rock - it's Blackpool Week!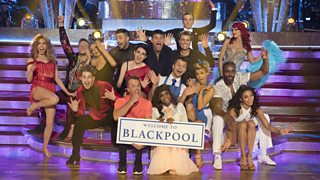 Oh we do like to be beside the seaside… especially when it involves an incredible night of dancing in the iconic Tower Ballroom. That's right, it's Blackpool Week!
All of our Strictly stars have ventured north as we hit Week Nine of the competition, and they're gearing up for a Saturday night like no other. Ashley will be dancing on the tables, Graeme's giving the Theatre/Jazz category a go and Charles is bringing a pool party to the dancefloor. What more could you want?
If that wasn't sweeter than a stick of rock, our celebs and Pros will kick off proceedings with an epic dance to Gloria Estefan's biggest hits – and the superstar herself will be joining them!
Don't miss the Strictly seaside extravaganza tonight at 6.45pm on BBC One, and get all the behind-the-scenes action from the Tower Ballroom on Instagram, Twitter and Facebook across this wonderful weekend.
Plus when you're ready to vote for your favourite, here's some info that might help you out...
You can only vote online on the Strictly homepage (click here to make sure you're registered first) when Tess and Claudia announce it's open in the live show. If you're having any technical difficulties trying to vote online, we suggest trying some or all of the below:
- Keep refreshing the vote page during the vote window
- Ensure that you have third party cookies enabled in your browser settings
- Delete your browser cookies
- Sign out and back in to your BBC account
- Update your browser settings
- Disable any cookie or ad-blockers
- Use a different browser
- Use a different device eg. mobile or tablet.
And don't forget you can still vote by phone during the voting window!