Who's lifting the Glitterball trophy tonight?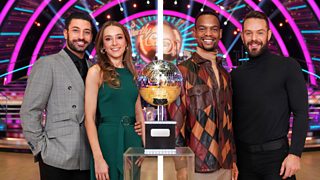 The last 12 weeks have all come down to this. Tonight, one couple will be crowned the winners of Strictly Come Dancing 2021! This series has been spectacular in so many ways and there are still many marvellous moments to come.
John and Johannes and Rose and Giovanni will perform three fantastic dances tonight, including their own favourite from across the series, a Judges' Pick and a brand new Showdance. If there's a time to bring your absolute best to the Ballroom floor, it's now!
While the Judges will be scoring each couple, only your votes count and will ultimately decide who goes home with the Glitterball trophy in their hands. So make sure you're logged into your BBC account ahead of time and be ready to vote on the Strictly homepage as soon as Claudia announces it's time to do so. All the additional voting information you need can be found right here.
So who will it be... John and Johannes or Rose and Giovanni? The decision lies in your hands! Tell us who you're backing in the comments, and follow us on Instagram, Twitter, Facebook and TikTok so you don't miss a single moment of the Grand Final.
Thank you for joining us for another fab-u-lous series, all your follows, comments and love mean the absolute most. We'll see you on BBC One on Christmas Day at 5.10pm for our festive special, and in 2022 for another amazing series!
All that's left to say now is... Keeeeeep dancing!