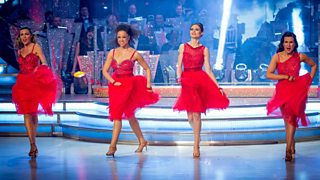 Wow! Well…what a show! The sisters really were doing it for themselves tonight with a mesmerizing mix of dance styles and top notch performances. 
The Strictly Grand Final 2013 was kicked off with Susanna and Kevin's Quickstep, which was the Judges' favourite choice from Week 10, and caused Len to comment, "It was light, it was bright, I tell you what, knock out!"
Abbey and Aljaz were next to take to the floor with their Waltz to 'Kissing You' from Week One which received full marks from a panel of very impressed Judges and an audience who were left with goosebumps.
Natalie and Artem also went back to Week One to reprise their Cha Cha and were awarded 39 points for their amazing performance. Sophie and Brendan took a trip back to Musicals Week to show us an improved version of their Viennese Waltz which almost scored top marks from our Judges.
Next came the Showdances and we were not disappointed! It was a varied mix that truly did showcase each dancer's amazing abilities.
Susanna and Kevin danced to Ewan McGregor's version of 'Your Song'. They exuded "elegance, style and sophistication" according to Len and scored 36.
Next up, Abbey and Aljaz took a walk on the wild side next and gained 38 points for an exhilarating mix of Tango and Paso which caused Bruno to exclaim "Call the Fire Brigade. I'm on fire!"
"A showdance to end all showdances" was how Natalie and Artem's performance was described and the scores reflected this as they hit the big 40. Sophie descended from the roof in a giant glitterball to kick off her and Brendan's showdance to Whitney Houston's classic, 'I Wanna Dance With Somebody'. It was jam packed with content and some jaw dropping lifts but it was the lowest marked from the Judges, scoring 35.
After all that dance drama, currently top of the Leaderboard are Natalie and Artem with 79 points but remember, tonight the Judges' scores are just for guidance. It's all totally up to you and it's not over yet as the three couples who will go on through after this round of voting have yet to perform their favourite dance from the series. So, which have been your favourite performances so far tonight?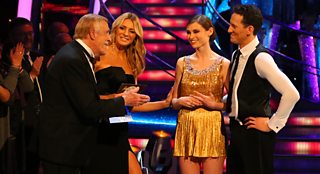 At the top of the results show, Sophie and Brendan left the competition in fourth place after entertaining us for thirteen action packed weeks. We are very sorry to see them go! The competition reaches fever pitch now as the final three perform their final dance – the Couple's Favourite.