Daisy Lowe is confirmed for Strictly 2016!
British model and actress Daisy Lowe has been revealed as the eighth celebrity joining the Strictly class of 2016.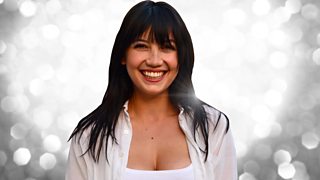 Born and bred in London, Daisy has been modelling since the age of 15, having apppeared in print and on the catwalk for some of the biggest names in fashion.
As the Strictly dance floor beckons, this model contestant is both excited and nervous… but mainly excited: "I'm so excited! And terrified... I love dancing so much... But I've never done any ballroom dancing before this... I've always loved the show and I can't wait to be part of it."
When asked what she is looking forward to most, Daisy said: "All the training! Learning all the new skills and dancing all the time." Of course, the Strictly sequins are a huge lure too: "I'm like a magpie with sparkles so I'm very VERY excited."
While Daisy is keen to impress our judges, she's also eager to dazzle a certain someone with her dance floor prowess: "I would love to make it into the final... My Grandma has watched every episode for the past 14 years and I know that if I get kicked out, she won't watch it!"
With a dance history that includes hip hop and modern to dance away her "teenage angst," Daisy can't wait to master ballroom: "I'm really excited about learning how to do the tango... I know it will be challenging but I do love hard work!"
Here's hoping Daisy delivers a model Tango and shimmies her way into the Strictly Final. After all, it would be a shame not to have her Grandma watching after 14 years of Strictly loyalty!
For more on Daisy, take a look at her Strictly profile. And stay glued to the Strictly Facebook, Twitter and Instagram feeds to be the first to know about the latest additions to the Strictly 2016 line-up.