Play the Strictly 2018 Sweepstake!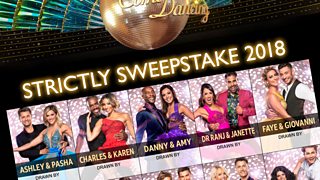 Another year of Strictly means another year of the official Strictly Sweepstake!
If you love a bit of competition - and not just the one that's happening in the Ballroom - then you're going to love this. Once again, we've put together an official poster for you to play along with at home, giving you even more reason to cheer your favourite pairs on.
Just cut out the couples' names at the bottom of the poster, pop them in a bowl and let all your Strictly mad mates, colleagues or relatives pick one at random (no peeking now!). Plot their names against the couple they select and find out who's the lucky holder of the winning couple when we reach the Final.
Ready to play? Download the Strictly 2018 Sweepstake poster here.