Make no bones about it, that was a spooky Strictly special!
Patrick and Anya kicked off the show with some killer moves, setting a terrifyingly high standard for the night! Team Patanya didn't need the power of voodoo! They got their best score yet with 34 points.
There were a few more personal bests on the night! Ashley grabbed 33 points with an "Aggressive, dark, mysterious" Tango.  Zombie Bride Rachel was far from ghastly, earning a thrilling 30 points.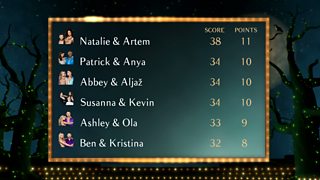 Kevin and Susanna spellbinding performance earned them 34 points. Beautiful creatures Abbey and Aljaz were also frightfully good with a score of 34.
The main attraction of the night (apart from Ben's bare chest!) came in the haunting form of Natalie and Artem. 'The Lady of the Lake' Natalie lead the Judges into a pleasant trance. So much so that Len and co gave first 10s this series to Team Nartem!
But the gruesome twosomes this week were Dave (no relation to Michael) Myers and Karen 'Howling' Hauer.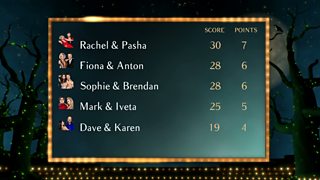 They failed to convince the Judges scoring 19.
Who do you think deserves to depart the competition? And who deserves to face dreaded Dance Off? Let us know what you think?