Are you ready for some Semi Final fun?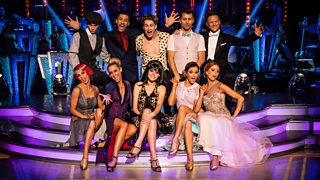 Just in case you didn't already know which week it is, we're here to remind you it's... *drumroll* Semi Final time!
That's right, 11 shows have gone, with just two yet to come, taking us one step closer to crowing our 2018 winner. But to reach that point, our Strictly stars have really got to prove themselves by performing not one, but two show-stopping routines this Saturday. Lauren's dancing the Tango and the Samba, Faye's tackling the Argentine Tango and the Samba, and last man standing Joe is taking on an Argentine Tango and a Viennese Waltz. It's undoubtedly going to be their toughest week yet!
Make sure you're watching tonight at 6.35pm on BBC One, so you can back your favourites all the way to the Final (you can place your vote when lines open at the end of the show). But before that, follow us on Instagram, Twitter and Facebook so you don't miss a moment of the Semi Final fun on and off the dancefloor.
Good luck to all of our couples - but for now, there's only one thing left to do... Keeeeep dancing!
Please note comments on this blog will now close after 48 hours.