Tom Fletcher is our first Strictly celebrity of 2021!
Tom Fletcher is our first celebrity contestant confirmed for a brand new series of Strictly Come Dancing when we return in the Autumn! Tom is an author, composer, musician, singer and songwriter, best known as a lead vocalist and guitarist in McFly, one of Britain's most successful bands.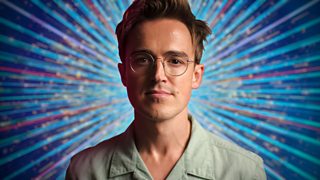 "I think the fact that I'm actually going to be dancing on Strictly this year has only just started to sink in while I'm writing this! I'm incredibly excited, of course, but also totally terrified! My kids were excited too until I started showing them my best dad-dancing in the kitchen. I'm not sure how far they'll get me in the competition but I can't wait to add some new moves to my embarrassing dad-dancing repertoire."
Tom has penned ten UK number one singles for McFly, as well as written a number of chart-topping songs for bands such as One Direction, Busted and 5 Seconds of Summer.
Alongside his music career, Tom is also one of the UK's bestselling authors for children, with his books, including The Christmasaurus, The Creakers and There's a Monster in Your Book, going on to be translated into over 30 languages.
The news was revealed tonight on The One Show on BBC One.