Saffron Barker subscribes to Strictly!
Social Media star Saffron Barker is the fourth celebrity confirmed for our brand new series of Strictly Come Dancing!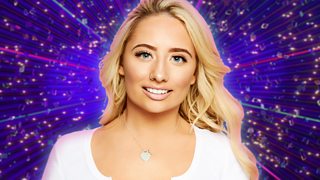 Saffron said: "I am really excited to go on the Strictly journey and am feeling very grateful for the opportunity! I'm looking forward to learning all of the dances, finding out who my partner is, getting to wear the costumes and to just experience this once in a lifetime opportunity."
19-year-old Saffron has over four million followers across her combined social channels and averaging 15 million views a month on her YouTube channels. In 2017 Saffron's book 'Saffron Barker Vs Real Life' reached number one on the Sunday Times bestsellers list and her popularity has also gained her three successful homeware ranges with Primark.
Saffron is also a supporter of several charities and this year completed the London Landmarks Half Marathon for the Make A Wish foundation. She also completed her first marathon, the London Marathon, running for Dementia Revolution in memory of her Great Grandad Ted.
Saffron joins footballer David James, comedian Chris Ramsey and EastEnders actress Emma Barton in our line-up this year.