It's time to meet your Finalists...
Last night's Semi-Final was nothing short of epic, seeing our couples perform double the dances and take home some of their highest scores yet!
AJ and Kai received a perfect 40 for their classy Quickstep and 39 for their stunning Rumba, only matched by Rose and Giovanni, who were scored 39 for their beautiful Waltz and 40 for their hot Argentine Tango. Both couples sat top of the leaderboard, with John and Johannes just behind with 39s for both their emotional Couple's Choice routine and joyful Jive.
Meanwhile Rhys and Nancy bagged 36 for their sharp Tango and 38 for their fantastic Samba.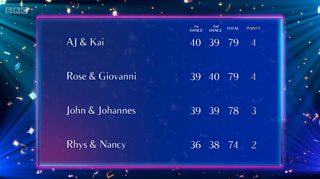 But only three of our couples can go through to next week's Final, so every mark really counts. Who will make it to that milestone moment and get even closer to the Glitterball trophy? All will be revealed tonight in another dazzling Results Show! Not only will we see which couples your votes have sent through to the Final, but we'll also catch up with the Judges and enjoy yet another fabulous routine from our Pro dancers.
So get ready to meet your three finalists tonight on BBC One at 7.20pm, and keep up with all the action on Instagram, Twitter, Facebook and TikTok across the night!