Pixie confirmed the news via the official BBC Strictly Vine account earlier today following a series of cryptic clues posted to her 1.65 million followers on social media, which prompted a flurry of speculation from her followers.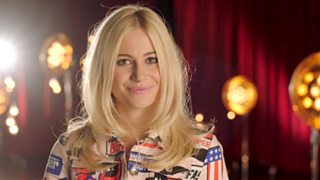 She began by tweeting: "Ahh, got something very special to reveal soon cats…" and followed with "So excited! Some news is coming, can't wait to tell you! Announcement soon at 2.30pm UK time…so watch this space for news" before confirming her participation on the show.
23-year-old singer-songwriter, model and actress Pixie's first two singles went straight to number one and her debut album sold over 1.5 million copies. Pixie has gone on to make a total of three albums and has had a string of best-selling singles.
As a young actress she appeared in the West End production of 'Chitty Chitty Bang Bang' at the London Palladium and as Louisa von Trapp in BBC One's 'Celebrate the Sound of Music' before embarking on her successful music career.
Pixie said: "I'm so excited to be doing Strictly, it's going to be a lot of fun. I always want to push myself as a performer so can't wait to learn the routines."
Keep up to date with all the latest BBC Strictly news via our official BBC Strictly Twitter, BBC Strictly Facebook and here on our news blog.