Revealed! Our couples' Week One songs and dances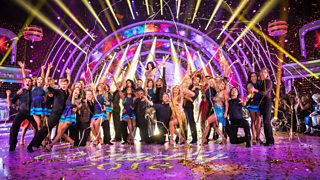 We're now just days away from the first live show of 2018, so we can finally reveal the dances our couples have in store and the songs they'll be shaking their stuff to!
From Whitney to Kylie, and Tom Jones to Timberlake, Week One is going to be full to the brim with toe-tapping tunes and (hopefully!) some amazing moves to match.
So without further ado, here's how their dancefloor debuts will look and sound:
Ashley & Pasha: Viennese Waltz to Perfect by Ed Sheeran featuring Beyoncé
Charles & Karen: Cha Cha Cha to Ain't No Love (Ain't Not Use) by Sub Sub featuring Melanie Williams
Danny & Amy: Foxtrot to Top Cat Theme by Hoyt Curtin
Dr Ranj & Janette: Cha Cha Cha to How Will I Know by Whitney Houston
Faye & Giovanni: Cha Cha Cha to Lullaby by Sigala featuring Paloma Faith
Graeme & Oti: Samba to Soul Limbo by Booker T and The M.G.'s
Joe & Dianne: Jive to Take On Me by A-Ha
Kate & Aljaž: Cha Cha Cha to Kiss by Tom Jones
Katie & Gorka: Waltz to When We Were Young by Adele
Lauren & AJ: Waltz to I'm Kissing You by Des'ree
Lee & Nadiya: Waltz to Take It To The Limit by The Eagles
Seann & Katya: Tango to SexyBack by Justin Timberlake
Stacey & Kevin: Quickstep to Dancing by Kylie Minogue
Susannah & Anton: Samba to Tico Tico by Carmen Miranda
Vick & Graziano: Jive to Feel It Still by Portugal. The Man
We don't know about you, but we can't wait to see these routines come to life! And with no public vote this weekend, our couples will be able to dance the night away without worrying about their fate until Week Two.
Tell us what you think of their first songs and dances in the comments, and be sure to follow each pair's progress on Twitter, Facebook and Instagram. We'll see you Saturday on BBC One at 6.15pm!