Halloween Week Leader Board Recap
Tonight on fright night, it's been a ghoulishly good show packed full of witches, wizards, ghostbusters, mummies, vampires, zombies – and a whole lot more! We've loved all the dances this week, but as always, our Judges have scored them all and tomorrow one couple will be facing their worst nightmares and waving goodbye. Before then, here's a quick recap of the highs and lows of tonight's leader board...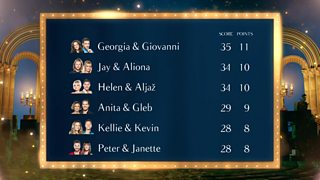 Starting at the top, Georgia and Giovanni were devilishly good as they ghost-busted their best moves and soared to the top of the leader board with what Darcey called "one powerful, powerful performance." Earning a standing ovation, Team GG certainly put the super in supernatural - and the gho-st in Tango for that matter! The dancing duo scored a successful 35 points for their dance to the Ghostbusters theme tune, with three nines, an eight and the accolade from Len that Georgia was: "The Queen of Halloween." Craig added she was "sharp" and "feisty". Perhaps from now on they don't need to be afraid of no Craig?!
Swooping in swiftly behind in joint second place were Helen and Aljaz and Jay and Aliona, both scoring 34 points (each with two nines and two eights). Helen and Aljaz danced a spooky, sizzling Samba to Take Your Mamma Out by the Scissor Sisters, which was just tomb good! Bruno exclaimed: "Mummy-mia, how can I resist you?!" And Len was wrapped up in their performance too, but confident they'd do very well. He said: "I wouldn't be surprised if you're up there tonight… you've delivered again – the midwife!'
And howl did Jay and Aliona do? Pretty good too! The Judges wolfed down their super smooth American Smooth to 'Little Red Riding Hood' by Sam the Sham. But a sham-bles it wasn't, scoring them joint second place in the leader board. It was certainly a dance we got our teeth into – and the Judges too! Bruno claimed Jay was so well trained he'd make "best in show". And Craig complemented: "Great timing. Great control… I loved it."
Sadly though, it wasn't thrills for all of our terrifying twosomes, especially Carol and Pasha, Kirsty and Brendan and Katie and Anton, who found themselves in the bottom three of the leader board.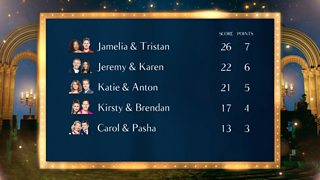 Katie and Anton's dramatic Paso Doble to Phantom of the Opera was far from phan-tastic according to the Judges. Despite Darcey saying Katie's Latin showed improvement, her score of 21 was a far cry from the dizzying heights of 33, which they were awarded for their Viennese Waltz.
Kirsty and Brendan's chilling Charleston didn't have enough bite for the Judges either, with Kirsty recovering from a few unfortunate mistakes and "bad luck" according to Craig. Darcey commended Kirsty on her brave lifts and impressive cartwheel at the end, but Kirsty earned her lowest score of the series so far of 17.
At the very bottom of the leader board, though, were Carol and Pasha. Their Frankenstein-themed Rumba failed to bring the Judges alive and, as a result, scored them a sorry 13. Darcey apologised saying: "I'm really sorry, this just isn't your dance," and Len added that the footwork was the "nail in the coffin" for him. But will it be the nail in the coffin for their time on Strictly?
Let us know what you make of tonight's performances in the comments section below and keep up with everything that's going on on Facebook, Twitter, Instagram and Vine.
Until tomorrow, have a fabulously frightful Halloween from everyone at Strictly!