Jeremy Vine revealed as our first Strictly celebrity of 2015!
Breaking news! Give a huge glittery welcome to current affairs supremo Jeremy Vine, the first of our 2015 celebrity line up to be announced. Jeremy made the big reveal during his appearance this morning on BBC Radio Two's The Chris Evans Breakfast Show.
Jeremy said of joining Strictly, "I love it. Things I love:
1. Len shouting SEVEN.
2. When someone suddenly pulls off an astonishing dance that makes you cry, like Natalie Gumede.
3. Watching it with my young daughters when so few programmes have family overlap these days."
When asked about the judges, Jeremy commented "They are the scariest bunch of people I have ever seen assembled in one place, but I love the fact that their expertise shines through."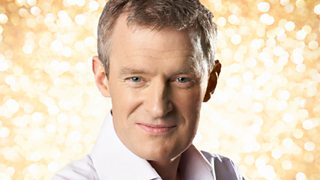 Jeremy Vine
The 50 year old is no stranger to the camera, presenting BBC 1's Points of View, quiz show Eggheads and The Jeremy Vine Show on BBC Radio 2. And as if that wasn't enough, he previously presented the world's oldest current affairs programme, Panorama. Strictly's going to be a breeze in comparison!
Jeremy began his career in 1986 as a trainee reporter at the Coventry Evening Telegraph, in the days of manual typewriters and hot metal presses. Just two years later, he made his name as a reporter on the BBC Radio 4 programme Today. During his time there he was ambushed by Croatian rebels and nearly died. He's since gone on to be named Speech Broadcaster of the Year at the Sony Awards in 2005 and 2011.
Jeremy is married to BBC News presenter Rachel Schofield. They have two daughters, Martha (11) and Anna (8) and he is the brother of Tim Vine, a successful comedian.
Let us know what you think of our first Strictly signing and stay tuned to @bbcstrictly, facebook.com/bbcsctrictly and here on our official News Blog for all the latest announcements.