Strictly 2015 couples revealed!
After much speculation, the Strictly class of 2015 have finally met their matches!
With three new pro dancers in the mix, the star-spangled line-up were paired up with their professional dancers this evening on the Strictly launch show.
In just a matter of weeks, our pros will have the celebs waltzing, fox-trotting and quick-stepping across the Strictly dance floor for the very first time.
Without further ado, it's time to find out who was paired with who…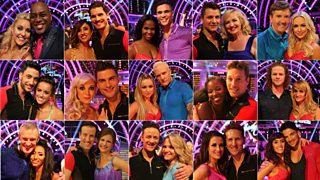 What dazzling combinations! Now we need your help to give the dancing duos a team name.
Could Jay and Aliona answer to Jayliona? Will Kellie and Kelvin become Kelvin, or perhaps Peter and Janette will pull off Jandre? Maybe Georgia and Giovanni will keep it simple with GG?
Here's a complete list of the 15 dynamic duos to get the creative juices flowing:
Let us know what you think about our dynamic duos and share your ideas in the comments below!