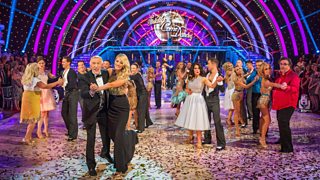 The anticipation is unbearable, Strictly returns to our screens this week for a double dose of dance floor magic, tune in on Friday at 9pm and Saturday at 7pm.
Today we can reveal the music and dances each couple are performing on Week One.
Abbey and Aljaz will be Waltzing to 'Kissing You' by Des'ree.
Ashley and Ola perform the Cha Cha to global hit 'What Makes You Beautiful' by One Direction.
Ben and Kristina will Cha Cha to John Newman's Northern Soul influenced track, 'Love Me Again'.
Dave and Karen are also dancing Cha Cha. Their song is the hit single 'Moves Like Jagger' by Maroon 5.
Deborah and Robin are going to Tango to Abba's 'Money Money Money'.
Fiona and Anton will Tango to Duran Duran's James Bond theme 'View To A Kill'.
Julien and Janette are performing Cha Cha to Madonna's dance hit 'Vogue'.
Mark and Iveta will dance to Tango classic 'Hernando's Hideaway' by Alma Cogan.
Natalie and Artem Cha Cha to disco hit 'Rasputin' by Boney M.
Patrick and Anya will Jive to Bruno Mars' 'Runaway Baby'.
Rachel and Pasha Waltz to Luther Vandross' version of 'When I Need You'.
Susannah and Kevin are performing the Jive to 'Shake Your Tailfeather' by Blues Brothers.
Sophie and Brendan are Waltzing to 'Moon River' by Audrey Hepburn.
Tony and Aliona Waltz to 'What'll I Do' by Alison Krauss.
Vanessa and James will Cha Cha to Shania Twain's hit single 'That Don't Impress Me Much'.
We also want you to suggest official team names for our Strictly pairings! So far the couples have come up with team names like 'The A team' (Abbey and Aljaz), Team Sparkle (Julien and Janette) and Team Marketa (Mark and Iveta). Can you do better? Let us know if you have any suggestions via the Blog, Twitter and Facebook.