1st December 1993
Oasis begin a pre-Christmas tour at Birmingham Institute. Famously some promoters we've spoken to around the country managed to book the nascent Britpop legends for £50. Among the other dates on the tour are Glasgow on the 2nd and Warwick University on the 4th. It winds up at Liverpool Krazy House on the 16th.
Review of the gig at the Birmingham Institute:
"If Oasis didn't exist, no one would want to invent them. For a start, they look and sound like they're long overdue product from a bankrupt Polymer Records Manc scally also-rans factory. Vaguely trippy guitar almost-tunes with vaguely late '60s rock tendencies, vaguely Ian Brown as Tim Burgess slob of a frontman, singing in a vaguely tuneless half-whine, vaguely shaking a tambourine, vaguely......er, yes, well, you get the picture." - Johnny Cigarettes, NME, December 1993
8th December 1993
The Heartthrobs plus Sleeper play The London Highbury Garage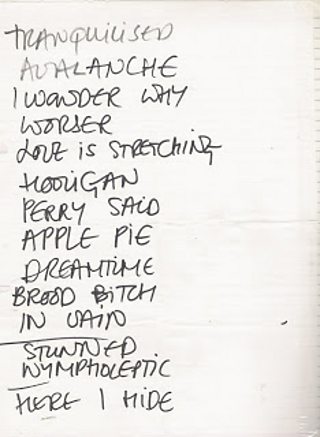 Heartthrobs Setlist
9th December 1993
Radiohead headline London's Brixton Academy. They open with 'The Bends' and finish with 'Stop Whispering'
The Bends
Prove Yourself
You
(Nice Dream)
Vegetable
Creep
Ripcord
Banana Co.
Pop Is Dead
Faithless the Wonder Boy
Anyone Can Play Guitar
Stop Whispering


10th December 1993
The Verve kick off a tour at Glasgow Cathouse with Oasis in support. The tour continues in Manchester, Glasgow, Preston, Newcastle, Bradford and Liverpool.
14th December 1993
Echobelly, Smash, The Flamingoes and These Animal Men play London's 100 Club.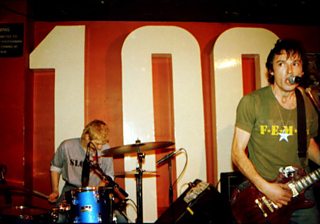 Smash
22nd December 1993
Oasis head to the Maida Vale studios for the first time to record their debut Radio 1FM Evening Session, for broadcast at the start of 1994.