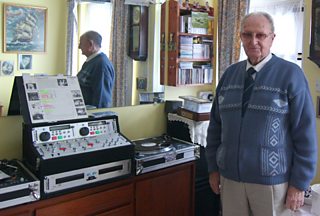 It was the Sony Radio Academy Awards last night ("the radio industry's equivalent of the Oscars"). Here's where you can hear this year's gold winners from Radio 4 which were cunningly rescheduled into some of the station's repeat slots when the nominees were announced.
The winner of the best speech programme award was Infinite Monkey Cage which we've featured on the blog before. The new series starts on BBC Radio 4, Monday May 30th at 4.30pm (repeated on Tuesday evenings at 11pm) for 6 weeks. In the meantime you can listen to some earlier episodes via the Radio 4 podcast page.
Matthew Price won news journalist of the year for his work for Radio 4. You can listen to one of his recent reports on the Syrian protests.
The winner of the best feature was Heel, Toe, Step Together made by Falling Tree. Heel, Toe, Step Together (pictured above, Bob Hill) "tells the story of two people who met at an East London market one day and the unlikely friendship that blossomed through dance" and you can listen to it again at 13.30 this Sunday, the 15th May on Radio 4 and for seven days after that on iPlayer.
For the judges the winner of best drama Every Child Matters is a story that "drew them in whilst portraying the reality of the contradictions, conflicts and complexities facing the professional staff working in child protection". You can hear Every Child Matters this Thursday at 14.15 and for seven days after that on iPlayer.
Jenni Murray won the gold award, a 'special award that lies within the gift of the Committee'. This is what the Guardian said:
'On a night when female winners were thin on the ground, Radio 4's Woman's Hour presenter Jenni Murray received the prestigious gold award. The judges said it rewarded a "career of exemplary broadcasting, for her incisive yet sensitive interviewing skills, her championship of the woman's perspective and the inspiration she has given to others".'
On this Thursday's Woman's Hour Jenni Murray talks to Kate McCann about the ongoing search for her daughter.
Paul Murphy is the acting editor of the Radio 4 blog