The Story of 'I Dressed Ziggy Stardust'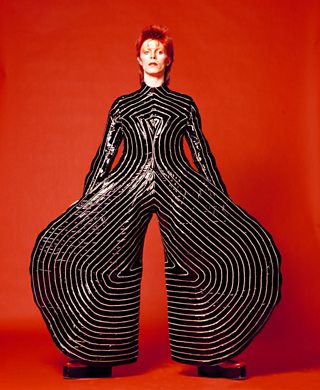 Striped bodysuit for Aladdin Sane tour, 1973. Design by Kansai Yamamoto. Photograph by Masayoshi Sukita. © Sukita / The David Bowie Archive 2012. Showing at David Bowie is at the V&A
This is a story about heroes and how they change us. As a little girl I grew up in the 70s & early 80s south London suburbia terrified and fascinated by David Bowie.
I navigated my way through a decade that often ignored but more often didn't seem to like "coloured" people very much, with National Front support at its peak. And I fixed on rare and hugely inspirational Asian role models, like the bold and charming TV presenter Shyama Perera.
A year ago, Shyama and I finally met. I confessed my hero worship of her and we found we shared a love of David Bowie. But where I had watched from a suburban distance, through the TV screen and the music charts, Shyama, an inner London girl, a few years older and bolder, revealed how as a teenager she had hung around outside his house chatting with Bowie and his wife Angie, breakfasted with his bandmates, and sent in costume sketches. One day David Bowie ruffled her hair on his doorstep and told her she'd have a surprise at the gig that night. The story of I Dressed Ziggy Stardust was born then and I pitched it to Radio 4.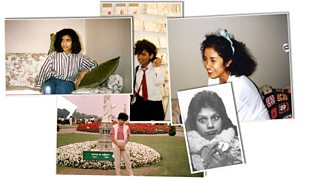 Childhood photos featuring (clockwise from top left): Rupa Huq, Rupa Huq, Samira Ahmed, Shyama Perera and Rupa Huq
As well as re-visiting the old locations from Shyama's Ziggy years, producer Alice Bloch broadened our search for fans and found Shami Chakrabarti of Liberty and Chandrika Joshi. There aren't many female Hindu Priests, but, Chandrika a refugee from Idi Amin's Uganda, growing up in Wales, saw resonances of Lord Krishna and the easy androgynous beauty of Hindu avatars in Marc Bolan and Bowie. Who could have thought Top of the Pops could lead to her challenging the gender expectations of her faith and culture?
Rupa Huq, a colleague at Kingston University, grew up in the Queen of the suburbs – Ealing. She shared fascinating insights into both how Bowie intruded into her own Bengali upbringing, and through her own research as a sociologist, explained how suburbia was not the dull, conservative space as portrayed in 70s sitcoms, but a radical "edge" where immigrants made their homes and youth formented rebellion. Punk, like Bowie, came from the 'burbs.
Suzi Ronson, Bowie's costume mistress during the Ziggy days, his publicist Cherry Vanilla, who managed the fans, and photographer Hy Money filled in the gaps. Hy had taken her children to Bowie's south London "Arts Lab" club on Beckenham High Street. It was where Bowie and Bolan jammed with sitar players in suburbia. Being Asian could be cool, after all.
Throughout the making of the documentary I carried round 2 photos. One of a teenage David Jones in one of his many failed pop prototype incarnations - more Tommy Steele than Ziggy Stardust; a suburbanite desperate for fame. The other, a famous Mick Rock portrait of David Bowie, jaffa-haired and skinny, holding a photograph of himself in yet another persona. I saw the same suburban hunger for success as the immigrant child forging her own identity.