Editor's note: You can hear Pinocchio on Saturday 15 December at 2.30pm on BBC Radio 4. The programme will be available for download in 5.1 surround sound. Here, Linda Marshall Griffiths talks about how she approached this new dramatisation. PM.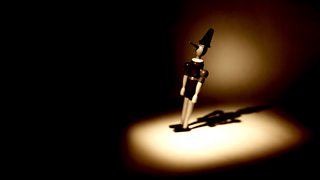 Carlo Collodi's Pinocchio, written as a moral warning to children of the consequences of avoiding education and work, is a wholly different creature from the whimsical evocation of Disney.
In the original story the cricket that would become Jiminy doesn't survive his first scene and Pinocchio ends up hung on a tree! Where do you start with that?
As an adaptor I loved the rawness, the brutal comic honesty of the original. Pinocchio's world is a harsh world, and Pinocchio must learn from harsh experience.
That he has to repeat this experience over and over before he can finally learn his lesson seems so completely human. I had a hunch that the language of Pinocchio was akin to the telling of Huckleberry Finn, fresh and colloquial and that became a starting place for the telling of the adaptation. But the streets he falls into are also similar to the Victorian streets of London that Oliver Twist found.
I wanted to capture the hunger, the lost children, and that rough danger. Letting Pinocchio tell us the story I hoped would preserve the child at the heart of the story whilst allowing us to see both the humour and precariousness of his journey.
Being the parent of a boy who leaps off the top of slides, runs into the sea (fully clothed!) in all weather, sometimes fights before talking, Pinocchio had become a different story for me than the one I remembered as a child. In trying to make sense of Pinocchio today I was inspired by Spike Jonze's wonderful movie adaptation of Maurice Sendak's 'Where The Wild Things Are.' Like the film, I felt Pinocchio was a journey of a boy learning to navigate life. Who leaps before he thinks, who strikes out before he knows the consequences. But also a story that understands the depth of feeling that belongs to that boy, the regret and sorrow at his own mistakes, the sometimes loneliness of his particular adventure and the complete compassion and loyalty that he always has for his friends and family.
In some ways when reading Pinocchio I wondered if he was ever a puppet at all, is he perhaps just a boy learning how to live?
The other characters in the book are equally rich. Geppetto who himself doesn't know how to be a parent at all. His actions at the beginning lead to Pinocchio striking out alone and quickly getting into all sorts of trouble. Geppetto has to lose his son, has to go through the classic belly of the whale (shark, or dog-fish in the original) and like Jonah come to face his own failings before he can begin to understand what might make him the father he needs to be.
Candlewick, the lost boy throwing books at Pinocchio in rejection of education and control - the parentless boy who can only ever become a donkey. The characters seemed so relevant to now.
Early on I wondered if we should just set the whole thing in contemporary British city, and make it the journey of a street kid. But somehow the story demands it is Italian. It is said to know Pinocchio is to know Italy. It felt crucial to let that hold the play – the music, the setting, sometimes even the language – it's obviously the foundation of the piece and its very character.
The Blue Fairy was more difficult. In the original shorter version she appeared as the dead girl at the window just before the end when Pinocchio was hung. Only when Collodi after its immediate success began writing a bigger story, a larger journey with a happier ending did he bring her back in many guises – child, fairy, mother.
Somehow as the only female in the play I wanted her to have a bigger stake in the story than the one character that always chides and corrects. What I loved was her sense of mystery. She challenges but she also leads Pinocchio over and over again back onto his proper path.
Pinocchio tells the Blue Fairy about his search for treasure.
I had this memory of Steven Spielberg's 'AI, Artificial Intelligence' (another re-telling of Pinocchio) of the robotic boy dreaming of his mother in many guises and somehow I wanted to find a new way to make her story completely part of him. So I took a departure and made the Blue Fairy something different from the original that in many ways I hope makes sense of Pinocchio's whole journey.
I love writing plays that allow a child to tell and hold the heart of a play. It's a big challenge for a young actor but the brilliant Ellis Hollins brings inexhaustible energy, constant vulnerability and a real sense of humour to Pinocchio. We were also extremely lucky with a wonderful company of actors. Added to this Olly Fox composed marvellous original music for the piece which just holds the story and tells it both delicately and gleefully.
Finally this production is an adventure in sound. It will be made available as a download in 5.1 surround sound, so plug in your speakers and immerse yourself in sound.
Enjoy!