Editor's note: In Prime Ministers' Props, Professor Sir David Cannadine explores political fame and image by looking at how an object or prop, whether chosen deliberately or otherwise, can come to define a political leader.
In the autumn of 2001, Ian Duncan Smith replaced William Hague as the Conservative Party leader, following Tony Blair's second landslide victory at the polls, and the Daily Telegraph's cartoonist, Nicholas Garland, offered IDS some advice about how he should manage his image and his public relations.
What Duncan Smith most urgently needed, Garland suggested, to set the Tories on the road back to political power, was to get himself associated, in the public mind, with a particular thing or artifact or prop. There were, after all, prime-ministerial precedents and earlier examples a-plenty, and Garland has made his point by drawing several of them: Neville Chamberlain's umbrella, Winston Churchill's cigar, Anthony Eden's homburg hat, Harold Wilson's pipe and Gannex mac, and Margaret Thatcher's handbag. What, he wondered, would Ian Duncan Smith decide on as his equivalent prop?
There's no evidence that he ever decided on anything, and while it might be going too far to suggest that IDS's failure to discover an appropriate prop was the reason he never got to 10 Downing Street, Garland's cartoon and Duncan Smith's failure, do remind us that many Prime Ministers, both successful and unsuccessful, have indeed used props to present a version of their character and project their image to a wider public.
In this series, I'm exploring five examples of Prime Ministers and their props of power: how they came to choose or to be associated with them, how they worked, and also how they didn't work. The overriding theme that emerges from these programmes is that Prime Ministers were never fully in control of their props. For while they might have been chosen in the hope of helping create a favourable image, when the going got rough their props could take on a hostile meaning and be turned against them to devastating effect, often at the behest of the cartoonists.
Professor Sir David Cannadine is a British author and historian and presents a series called Prime Ministers' Props on BBC Radio 4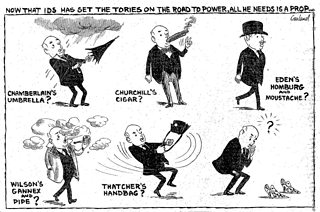 Nicholas Garland: Daily Telegraph 11 Oct 2002