Len Deighton's Bomber on Radio 4 Extra: Drama in real time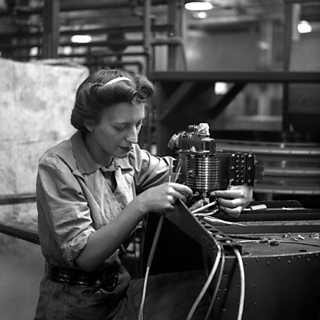 From the BBC archives: "Mrs Dorothy Downs is one of a group of women workers who recently volunteered
to give up their holidays to work very long hours in order to back up the RAF's 1,000 bomber raids over Germany."
Repeating Bomber on Armistice Day of all days is a massive compliment to everyone involved in the programme.
We have also been paid a more subtle accolade. Radio 4 Extra is replicating the original real-time nature of the broadcast. It must have been tempting to chop the thing into more conventional lumps, so I thank them for doing so.
I'm hoping to persuade you to find the time to listen to the programme live. However the reasons to do so are elusive and resist explanation.
Briefly, Bomber tells the story of a bombing raid on Germany by the RAF in 1943. It focuses on the experiences of a handful of bomber crews, the civilians in the town they bomb, and the nightfighter crews sent against them. The bombers take off in the early evening. It will take them three hours to plod to Germany, and three hours to crawl back. Those destined to make it home, or survive on the ground, do so before midnight.
Real time has always fascinated me, even at a mundane level. I was the sort of child who noticed that, in spite of Blofeld's henchman clearly announcing there was only thirty seconds and counting, James Bond always had a good couple of minutes to defuse the nuclear device. Would it, I wondered, be better if he didn't?
Len Deighton's documentary novel spans twenty-four hours. I first read it as a sparks working night shifts at BBC World Service. The backs of my legs aching through tiredness, I learned of fatal lapses of concentration in the early hours. It was, of course, a simple enough light bulb moment: perhaps I could match a listener's physical experience to the remorseless clock of a drama.
Twelve years later (I had meanwhile had a career as a Radio 1 producer) Radio 4 decided to test the real time theory. No-one knew whether this experiment would work or not. I think it did.
Firstly, tension - especially as Len's marvellous characters were impossible not to care about - is rarely allowed to build over nine hours in any medium. That delayed action bomb, fused in the mid-afternoon, only concludes its deadly purpose just before midnight.
Secondly, just carrying on with one's petty schedule (I was unpacking in my new flat), lends a remarkable contrasting insight to the unfolding dramatic incidents. It took an hour to do those three boxes, and an hour for ten Lancaster bombers to be shot down with seven men aboard each one. I have never felt so humblingly safe in my life.
Thirdly, and this was originally me laying the ghost of James Bond to rest, we had time checks that worked in both time frames. To hear the crews synchronise their watches and see the same on the kitchen clock sounds like sleight-of-hand, but it had another extraordinary connecting effect to the drama.
There are many other things about Bomber, not least the performances, the script, the direction, the authenticity for which we strove and the remarkable reminiscences I recorded in peaceful sitting rooms in Britain and Germany, dovetailed into the action.
But the effect of all these will, I promise you, be multiplied if you are able to follow the story in real time. Park the iPlayer for this one. As one listener wrote after the first transmission:
"Thank you for Bomber. It completely ruined my day. I had planned a dinner party, but my guests and I were compelled to sit by the radio right through to midnight."
Bomber is directed by Adrian Bean and produced by Jonathan Ruffle