In Our Time: Photosynthesis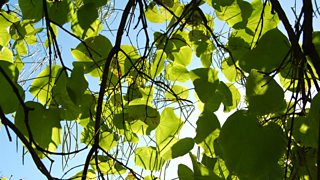 Melvyn Bragg and his guests discuss photosynthesis.
Hello
A couple of things from the conversation after the programme. I think it was John Allen who said that the United States aerospace industry is giving quite substantial support to research into photosynthesis. The reason that NASA is interested is because they are looking for ways in which they can identify on the surface of planets what may be the origins of life as we know it. Seems a terrifically oblique way to subsidise science, but in my view, the more oblique the better. John ended the programme with a wonderful quotation from Priestley about the practical discovery of photosynthesis. It was, he said, as a result of Priestley's curiosity. All of Priestley's research was curiosity-driven. Again and again research has been curiosity-driven.
I've picked up from academics over the past few years a feeling, sometimes of sadness, sometimes approaching despair, that that sort of research – i.e. intellectual curiosity, knowledge for the sake of knowledge – is not in favour at the moment. Why on earth have we become a box-ticking, bureaucratic, over-managed society wherever you look? Why don't we follow the talent, instead of (as in the case of universities and elsewhere) driving the talent out because of ways of managing which only make sense in some sterile boardroom, in some godforsaken place inside the M25? Answers on a postcard.
Okay, what next? Well, I'm going to the annual conference of the Reader Organisation at the British Library this afternoon, run by Jane Davis who's established a substantial centre for readers in Liverpool, and this is a day where I'll be talking on the theme of dementia in fiction. In between trying to walk carefully through sunny London. Carefully, after a sedative yesterday for the yanking out of back teeth in upper jaw right, which has left me feeling sore and groggy and … what was the subject we talked about this morning?
Best wishes
Melvyn Bragg
Download this episode to keep from the In Our Time podcast page
Follow Radio 4 on Twitter and Facebook
The BBC is not responsible for the content of external websites