Feedback: Making News, the Modern Newsroom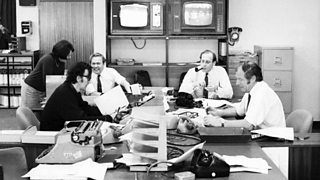 Television Centre Newsroom 1970
The first time I saw a BBC newsroom was in 1969 in Television Centre in White City, London.
The air was thick with cigarette smoke.
The news editor had a black eyepatch.
Grubby news cuttings and discarded newspapers littered the universally untidy desks. There were several bottles of whisky in the editor's fridge and a tea trolley was regularly pushed in between the mess, dispensing instant coffee, which was only just drinkable. After the main news bulletins there was an exodus to the bar where arguments were settled, sometimes by force.
Periodically the tannoy system burst into life announcing that a foreign correspondent was about to file, or that a vote was about to be taken in parliament.
There were, of course, no computer screens, no mobile phones, no texting, no Channel 4 News, no Sky and everything shot on location was on film.
I'm not even sure if there were any women producers - only secretaries. The presenters were all male, most of them having started their careers in the acting profession.
The attitude to a toffee-nosed graduate from the then separate department of TV Current Affairs with shoulder-length hair and a northern accent was, at best, sceptical. At worst it was unprintable.
Forty-five years later, with considerably less hair and a less pronounced accent, I found myself in the just over one-year old BBC news centre in new Broadcasting House, conveniently attached to the old one, which George Orwell so loved and hated.
This newsroom is vastly different. For a start all the BBC's national and international news comes from here, be it TV, radio, online or the BBC World Service.
There is a central hub, where all the news is taken in, and then desks, which radiate out like spokes from a wheel and from which the separate news teams operate.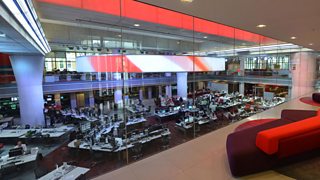 Now, of course there is no smoking and no bar.  As a consequence the esplanade in front of the new building is full of somewhat furtive figures having a drag.
(If you want to see what it all looks like then you can apply for one of the daily tours of the building.)
Everyone was extraordinarily friendly despite looming deadlines, either because modern news journalists are nicer, or because of politeness to the elderly (me) or - an unworthy thought this - because I was there for Feedback.
I was armed with a whole raft of questions from listeners who wanted to ask about news priorities and decision making. Many of our correspondents suspect that the modern BBC newsroom has a more tabloid agenda. Some have even switched to Al Jezeera.
We followed the team responsible for Radio 4's 6 O'Clock news and sat in on their main meeting which started four hours earlier at 2pm.
Here is my interview with Richard Clarke, the editor of the BBC Radio newsroom.
Please keep emailing, phoning and writing. You determine our agenda, if not that of the news.
Roger Bolton presents Feedback on Radio 4.
Listen to this week's Feedback.