Editor's Note: And Now An Urgent SOS Message is on BBC Radio 4 Tuesday 4th September at 8pm, repeated the following Sunday at 5pm. -CM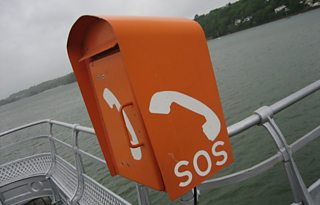 This programme began with PM presenter Eddie Mair's curiosity:>
"Jo, I have always wanted to know more about those SOS messages that you used to hear on Radio 4 after the news... you know... "Could Mr and Mrs Smith, believed to be travelling in the Cotswolds please ring this hospital where their auntie is dangerously ill"....Have they stopped? If so why? And what were the stories behind some of those messages? Did they make it? Did Auntie actually pull through?"
I investigated. The first SOS message was broadcast in March 1923, by the British Broadcasting Company. The local Birmingham station sent out an appeal to help search for a missing boy. He was found and returned to his family. Lord Reith - the founder and first Managing Director of the BBC - saw an opportunity: Always fiercely protective of the BBC's independence, he negotiated a relationship with the government and the emergency services which would give the new corporation a truly public purpose.
Over its seven decades the SOS message service alerted the public to unexploded bombs, lost poisons and an infected animal on the loose. It appealed for witnesses, missing persons and even broadcast an appeal for a wet nurse. But at its heart were the countless requests transmitted for people to rush to the bedside of an ailing relative. These were desperate human interest dramas. For the sake of privacy and because of strict guidelines, their results were never reported. Until now.
For this programme we've managed, decades on, to find out what happened to a handful of the people behind these poignant SOS appeals.
So Eddie got his wish. But we know there must be thousands more listeners with personal connections to the BBC's SOS message service. And we'd like you to get in touch.
If you have your own story about an SOS message, please email us on iPM@bbc.co.uk, or write to us at iPM, Room G601, BBC TV Centre, London W12 7RJ.
Jo Coombs is the producer of And Now An Urgent SOS Message