Edward Stourton walks the WWII escape route over the Pyrenees: The Freedom Trail
"The good escaper", says the 1944 document Tips for Escapers and Evaders, "is the man who keeps himself fit, cheerful and comfortable. He is not a 'he-man' who boasts about his capacity to endure discomfort. He should be a man with sound common sense and above all a man of great determination".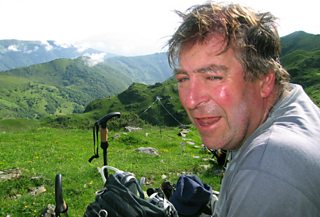 Edward Stourton on the World War II Freedom Trail
It is a very good definition of what today we would call the "skill set" you need to accomplish the Chemin de la Liberte, the four day, forty mile trek across the Pyrenees which is walked each year to commemorate the escapers, evaders and helpers who made the journey during the dark days of the Nazi Occupation of France.
I am certainly not a he-man, and I hate discomfort, so there has never been any danger of me boasting about my capacity to endure it. I am cheerful by nature, endowed with a reasonable supply of common sense (I hope), and I like achieving my goals. The problem lay in that unassuming little word "fit"; I am fifty-three years old, most of my work involves sitting in studios or at desks, and I like the good things in life.
The BBC agreed to my proposal for a series of programmes on walking the Chemin back in the spring, and immediately sent me off to an extreme sports clinic in Harley Street, where I was put through a human version of an MOT.
It involved attaching a great number of electrodes to my chest and strapping a strangely fashioned respirator to my mouth. I was then required to peddle away on an exercise bike until I reached near collapse. A group of technicians monitored the behaviour of my heart and lungs, chatting away calmly as I huffed and puffed to the point where both seemed ready to explode.
Over the past decade I have developed a passion for programmes built around journeys. It began in 2001 with an odyssey around the Mediterranean in the Footsteps of St Paul, a journey I made with a producer from the BBC's Religion and Ethics department, Phil Pegum.
Since then Phil and I have made radio pilgrimages in the footsteps of Mohammed, Moses and Jesus, and negotiated the waters of the Jordan and the Bosphorus. Every time we do it I am more convinced that travelling helps bring history alive. For my generation it requires a huge imaginative effort to get inside the mind of someone who lived through the Second World War (let alone someone who lived in St Paul's time) but seeing what they saw and going to the places they would have passed through brings their experience that bit closer.
We were well equipped and well fed and watered; those who walked the Chemin "for real" would have had little more than a pair of espadrilles and a stick by way of equipment, and they were often malnourished (almost everyone in Europe was short of food during that period, and it is striking how large the eating issue looms in evader and escaper memoirs). But I suffered enough to be able to get some sense of what they went through.
Phil is as thin as a whip and during the weeks leading up to the walk he was often spotted walking up and down the staircase of the BBC's Manchester officers with a rucksack full of bricks. He brought along another producer to help; Graham Hoyland is an experienced mountaineer and Everest veteran, and polished his fitness with a few days yomping over the Scottish Highlands.
I, on the other hand, found it extremely difficult to keep up the fitness regime I had been given, simply because I was so busy with other projects. There was no doubt about who was the weak link in the chain, and I was duly punished by pain.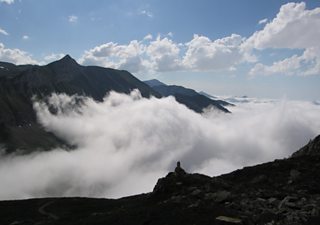 On the Freedom Trail
I discovered that a really tough walk like this is, oddly, not a very good way of appreciating nature or views; you tend to keep your head down and your eyes on the boots in front, concentrating on each step, and when we stopped for a break I usually found myself flat on my back staring at the sky. But the trance-like state you hit as you plod along is very good for encouraging reflection.
I also realised how clever Chaucer was to set his masterpiece, the Canterbury Tales, in an inn full of pilgrims. The Chemin is a kind of pilgrimage, and, like Chaucer's, it brings together people who might never otherwise have met, but who share a common purpose. Whenever we could, we talked, and as I listened to my fellow-walkers explain why they had come and what the Chemin meant to them, I came to understand why remembering matters so much.
Edward Stourton presents The Freedom Trail