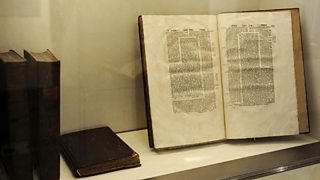 Melvyn Bragg and his guests discuss the Talmud, a major text of rabbinical Judaism.
Hello, 
I felt more than usual trepidation about this morning's programme.  Of course, I trepidate every time.  Who wouldn't, when faced with some of the world's best scholars on such a range of subjects?  But their generosity usually dissipates my anxiety, which would only get in the way if it were revealed and became part of the programme.
But there's something very special for me about religious programmes.  As I may have said before, I was brought up as a Christian, a very eager Christian, until I was about sixteen and began a falling away which, having completed its course, has returned as a powerful nostalgia and interest in thinking about the meaning of the impact that religion has had for so long, the scope it gave to people, as well as the well-documented (especially recently) horrors that it helped inflict, although I think it was more used than using.  But that's another matter.  I must have heard extracts from the Old Testament three or four times a week from the age of six until I went to university, when I was in the chapel choir for a very short time (I lasted about a couple of months and that was the end of that chapter).  And there was a familiarity about the names, not only from hearing them at school and in church, but the fact was that I lived in a town of five thousand people which had twelve churches in it.  Twelve.  Each one of which I remember being busy and controlling and, in effect, running most social as well as religious aspects of the town.
So we had people called Solomon and Sarah and Esther and Jacob and Ruth of course, and so it was rather like moving through the Torah.
The Talmud, of which I had the merest knowledge, proved to be a revelation in many ways.  Just to take one.  In my late teens and early twenties I began to read American fiction massively.  Soon I came across that great run of Jewish writers, from Isaac Bashevis Singer, Malamud, Saul Bellow, Joseph Heller and Norman Mailer, right through to Philip Roth, and revelled in them.  Also, when I went to Oxford and then came to London, I met for the first time Jewish men and women and have retained strong friendships with some of them and even made new friendships in London.
What the Talmud revealed to me was that the extraordinary argumentativeness, one-to-one, could well be rooted in the way that the Talmud is constructed; indeed in the way that yeshivas are constructed: two students together all the time, two sides of an argument, dissecting, diverging, almost ad infinitum.  The excerpts from the Talmud I read in preparation for the programme could have been in those novels.  In fact, I felt that I almost recognised sentences which could have come out of the books of those writers I admire.  My friend Howard Jacobson rang up after the programme.  He is carrying on that tradition in this country and I realised that one of my reasons for trepidation was that I didn't want to let myself down in front of him as well as others.
So, skimming the surface as far as they (the contributors) were concerned, but a serious toe in serious waters as far as I was concerned.
Then back to the office and now I'm dictating this from the Paul Hamlyn Hall in the Royal Opera House, where I've just done some links to camera for a series to be called South Bank Show Originals.  The ones I did today were about Mama Lou Parks, Merce Cunningham, Sylvie Guillem and Michael Flatley.
Covent Garden has totally, totally changed since first I came to London, when the great thing was to hang around, if you could keep your eyes open and money in your pockets, as long after midnight as you could and see the lorries crowd into crowded streets, manoeuvre down narrow lanes, fruit piled up, goods everywhere, Dickens stalking the land, echoes of opera and raunchy London sexual excitements at every turn.  Or so it seemed.  Memory is deliciously treacherous sometimes.
Best wishes
Melvyn Bragg
PS: I think I didn't explain the trepidation well enough, partly because here in the Royal Opera House they seem to be moving every piece of furniture in sight.  The fact is that the notion of the Word of God being given to Moses and him bringing it down to the people of Israel, the continuation of that story in the Hebrew Bible or the Christian Old Testament, whichever way you want to refer to it, and the sheer roll and might of it through the centuries, the horrors, the triumphs, the literature, the learning, is formidable.  It is a mighty fact and you feel, or rather I feel, daunted in the face of it.  So I was more than ever in need of the generosity of strangers this morning.
Download this episode to keep from the In Our Time podcast page
Follow Radio 4 on Twitter and Facebook
The BBC is not responsible for the content of external websites