Editor's note:  Every year, for a run of six weeks, BBC Radio 4 offers an opportunity for writers new to radio to submit a short story to Opening Lines.  From thousands of submissions we select the best three stories for broadcast on BBC Radio 4 - you can hear the first in the new series of Opening Lines on Friday 29 August at 1545.
Here, the programme producer, Gemma Jenkins, talks about some of the emerging themes from the entries this year.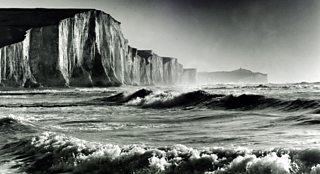 Coastlines were a recurring theme in entries this year to Opening Lines.
We want to encourage as many budding writers and short story enthusiasts to send in their work as possible – our only submission requirement is that writers haven't had their work broadcast on network radio before.  Stories come in from around the world, from authors about to publish their first novel, to students of creative writing, from bookslam regulars to passionate amateurs. Perhaps a literary star of the future will be among the submissions we receive. 
This year, we were incredibly impressed by the wealth of talent on display. From science fiction to historical fiction, romance to tragedy, the stories have transported us from dazzling coastlines to windswept mountains, from kitchen sinks to far off galaxies.  
Based on our reading we draw the following tentative conclusions about what has inspired this year's contributors.
1)            Coastline. Being based in London we don't always feel that visceral connection to the sea, but for many of you the seashore remains a place of rumination, introspection and powerful resonance. Many of our stories drew on the imaginative power of the sea, with an emphasis on drizzly, grey days over packed beaches and dropped ice cream.
2)            Post-apocalyptic / dystopian worlds. Whether it's the effect of geek culture going mainstream, the tremendous popularity of YA fiction, or a sense of pessimism about the age we live in, many of you created bleak and unsettling worlds for us. The best of these were incredibly inventive about life after global catastrophe. Hollywood should come calling!
3)            Reflection on past tragedy. The short story can be the perfect medium for explorations of memory and guilt, and we received quite a few stories which meditated upon the idea of the past intruding into the present. Sometimes the memories were of young love or early optimism but more often we met characters grappling with wrong turns taken or happiness spurned.
We offer huge thanks to everyone who submitted a story to us. From the most melancholic of stories to comedic romps the range of tales told was huge. These broad conclusions should not be taken as indicators of what we are looking for, or of how to succeed in the future. What continually astounded us was the variety of voice, narrative, style and setting.
We encourage everyone to keep on writing, and please set a date in your diary to hear the readings of our three selected stories: Baker, Emily and Me by Claire Fuller on Friday 29 August at 1545; Audiophile by Ian Green on Friday 5 September at 1545 and The Fox by Fiona Melrose on Friday 12 September at 1545.
Gemma Jenkins is the Producer of Opening Lines
Find out more about Opening Lines
BBC The Writers Room: Responsive and proactive, the BBC writersoom finds and champions talent