Queens of Noise - Get It On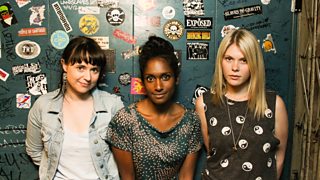 Queens of Noise- Get It On
'Queens Of Noise – Get It On' is the story of all-girl band Velveteens as they clamber up the slippery slope to success in the late 80s /early 90s.  It maybe fictional, but a lot of their experiences are based on fact, as the writers - me and
Louise Wener
- were both in bands with expert clambering skills, who managed to negotiate the slippery slope to success in the late 80s /early 90s.

Louise's band were babe-lead, Brit-pop chart-storming indie aces Sleeper.  Mine, those Baggy-tastic loveable Scousers The Farm (adjectives courtesy of Smash Hits magazine). It's twenty years since I swapped being in a band for writing scripts and producing films, but as I wrote my episodes, reflecting on personal experiences, I came to the conclusion that not much has changed … not much, apart from maybe everything.

Ok, so the fundamentals are the same.  Determined young bands still have to fight for attention – but rather than desperately trying to attract record labels and the weekly music press – bands now use the internet to spread the word (rather than fanzines, stamps and envelopes).  Today, a band can build a fan-base who can all chip in to fund the recording of their album.  

I'm sure that achieving success in 2014 feels much the same as it did in 1994 (or even 1964).  After years of hard work, everything suddenly clicks.  It's at that point where we find Velveteens at the start of the new series (having previously met and formed in the original pilot episode). When we pick the story up, they've signed a big deal with a major label - which does still happen, but less frequently and with much less money up front (big advances are sadly a thing of the past - though so are un-recouped royalty advances). 

The three girls are the hottest new band in the country (did / do people ever actually describe a band as "the hottest band in the country").  They are about to make it big.  Very big. In my experience, this is by far the most enjoyable period - when it finally feels like your 'moment' has arrived and the momentum just sweeps you all along.  Suddenly, for the first time, success feels as inevitable as being on the front cover of the next NME.

If I could give our fictional musicians advice, I'd say relish this magical moment, before the complacency, fatigue and cynicism kicks in - but unfortunately I can't give them any advice, mainly because, well - they're fictional characters - but also because happy, well-balanced, functioning musicians don't make for good drama. So, just as Velveteens are on the verge of making it, Louise and I had to throw as many spanners in the works as possible. Some of these obstacles were based on experience - some were based on the experiences of bands we knew or knew of.  

It's not all a big downer, they do still get to enjoy themselves - the first sell-out tour (which I'm sure hasn't changed that much), hearing their first single, reading their first feature in the music press - although stuff like big budget videos (larking about with your mates - what's not to love) aren't what they were, and Top Of The Pops has long gone. I loved Top Of The Pops. I'd watched it all my life, and suddenly there we were, on telly, miming with the biggest bands around. When we did our first TOTP, it had probably passed its peak, but at least the scary presenters had moved on and we had DJs with musical taste presenting it - like Peel, Mark Goodier and Janice Long (who makes a guest appearance in the first series playing a very convincing Janice Long).  The scrapping of Top Of The Pops was an act of cultural vandalism. Arguments that it was past it, and was naff, don't stand up because it was always naff, but that collective experience of watching the current hits being 'performed' every Thursday - and the whole nation actually knowing what's at number one - ended abruptly when the plug was pulled. Criminal, but at least Velveteens still get to enjoy it.

Another high, that Beth (independent, Scottish), Sylvie (Scouse live wire) and Rain (Cockney. Lead singer - enough said) all share with any band who's ever had a hit (even a minor one), is gathering around the radio in nervous anticipation to hear your first chart entry being announced. I'm sure that still happens.

When the series transmits, it will be exactly twenty years since The Farm last toured America - and lots of my own memories went into that episode (in series 2, transmitting in September).  Packed-out gigs on the East and West coasts, but deserted venues in the Midwest, drunken close-calls with the local police and fights with obstructive pay-phones (after filling them with endless amounts of quarters, but not having enough time to say, "everything is ok, honestly - don't believe everything you read"). 

On reflection, the main thing - maybe the only thing - that has changed is the means of communication. An emerging band today, say like The Sugarmen (the hottest new band in the country - well, in Liverpool at least), unlike The Farm, Sleeper or Velveteens, Sugarmen will be able to Skype home from an American tour, tweet their fans about an upcoming gig, and not have to stuff thousands of fanzines in thousands of envelopes just to tell people about the new demo cassette.

One thing that will never change, is that being in a band is exciting, writing 'Queens Of Noise – Get It On' gave me the chance to relive it - although The Farm still do get together to play festivals and gigs and generally misbehave. Maybe in 20 years time I'll be writing about Velveteens reforming to play festivals as a 'heritage' band.  Maybe not.
Roy Boulter
Roy Boulter is the writer of Queens of Noise: Get It On and drummer in the The Farm