James Baldwin 90th Anniversary: No Complaints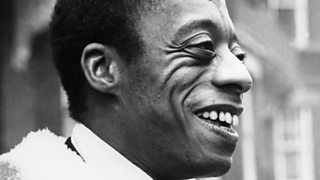 James Baldwin 90th Anniversary: No Complaints for Radio 4 Extra
Why a 90th anniversary programme? It's more customary to mark rounder numbers, a 100th say. But there is something about a 90th birthday that makes you think today - with a following wind - the person may still be here to tell us their story.  But James Baldwin is not.  He died aged only 63 in 1987. 
James Baldwin was born into relative poverty in Harlem, New York, in 1924.  During his lifetime as a writer he was a trailblazing explorer of race, class and sexuality in America. As his friend Caryl Phillips says in James Baldwin 90th Anniversary: No Complaints on Radio 4 Extra: "he can be seen as the literary voice of the Civil Rights movement" in 60s America. 
I first discovered James Baldwin far away in a West London school library, aged maybe 14.  I'd accidently come across a book. On the cover was the beautifully striking face of the author. It was Go Tell It on the Mountain by James Baldwin. 
That was his debut novel, written while he was barely surviving in France, having left the racial charged United States in 1948.  It made an indelible impression upon me. And so did it too on the British writer Caryl Philips. Struggling as a young writer himself in 1980s London, he had an idea to go and meet one of his literary heroes…  
When I noticed that James Baldwin's 90th birthday would have been this Saturday 2 August, I did some research in the BBC archive. I found that Caryl Phillips' idea had led to two remarkable things. The first was No Complaints, Caryl Phillips's BBC radio interview with James Baldwin in his garden in France in 1984.  The second, decades later, was Caryl's 2004 Radio 4 play, inspired by his mentor and friend, Some Kind of Home: James Baldwin In Paris. 
An internet search will return endless quotes from James Baldwin, his wisdom and acute vision reduced to a sentence or two. But what Caryl Phillips interview with James Baldwin gives us, with the breeze rustling the vines in Baldwin's French garden, is what I would have wished for this year:  that James Baldwin would still be here to tell us his story, and to speak his sometimes fierce, always revealing, wisdom about problems that have not gone away. 
Listening to Caryl Phillips revisiting his 1984 interview and his own 2004 play is the nearest thing I will ever find to having my wish come true. 
Caryl Phillips talks about his first meeting with James Baldwin.
Caryl Phillips interview with James Baldwin for No Complaints on BBC Radio (1984)