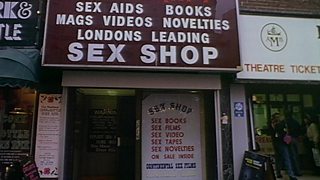 What is a copy of Homer's Iliad doing in the window of a sex shop in Soho? You find yourself asking some interesting questions when you're making programmes for Radio 4. This one came up on a recording trip with historian Bettany Hughes and assistant producer Georgia Catt for a new series The Ideas That Make Us which explores the story of some of the most influential ideas in the history of civilisation. In each programme Bettany takes one word from Ancient Greece and tracks its development to find out how it has changed over the centuries and how those changes have changed us.
For the first series we thought we'd investigate 'eros', which loosely translates as love or desire, and which to the Ancient Greeks sparked visions of a powerful and rather scary boy-god who drove people to commit ghastly crimes and come to truly sticky ends. Today the word 'erotic' is more often associated with pornography and conjures images somewhat less celestial.  So we found ourselves heading off to a shop with 'eros' in its title, purveyor of triple X rated films from the 60s, 70s and 80s, to illustrate this etymological journey. The plan was to record the beginning of the programme there and to link the shop's name back to Homer's classic tale of the Trojan War which contains the earliest surviving usage of word 'eros'.
So when we got to the shop, we were surprised and intrigued to find a copy of The Iliad nestled in the window between several interestingly titled DVDs and adverts for various 'performance enhancing' products. Perhaps unsurprisingly it turned out that Neil, the manager, is a great fan of Radio 4 (his favourites programmes are In Our Time, Moral Maze and The News Quiz). He was full of enthusiasm for our project and extremely helpful with the recording. Eventually I got 'round to asking him about The Iliad in the window and he told me that Soho had always opened its arms to those who appreciate both highbrow aesthetics and low carnal desires and he felt that having the book on show alongside his other merchandise reflected a bit of that tension. He said the shop is there for gay men and explained that displaying The Iliad was also a nod to the days when homosexuality could not be so openly advertised and when ciphers and symbols were often employed to catch the eye of those in the know. And he pointed out that as the ambiguous nature of the relationship between the Greek hero Achilles and his kinsman and fellow warrior Patroclus still seems to have the power to intrigue and excite then it seemed only fitting that The Iliad should wind up getting pride of place.
You find yourself getting some very interesting answers when you're making programmes for Radio 4.
Bettany Hughes has her brain scanned to find out what happens when she has a new idea.