In Our Time - States of Matter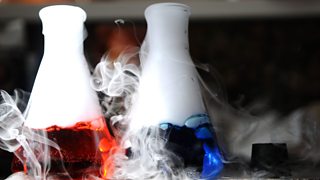 In Our Time: States of Matter
One of the things about broadcasting is that you feel hungry when you've finished.  Especially after a live programme.
It's odd because you haven't done anything particularly strenuous. It's the same enigma that governs the feeling of tiredness after merely sitting for a few hours at a desk, scribbling away.
But what I had to eat after this morning's programme, or rather before that, after the Today programme trail, was a good dollop of humble pie.
John Humphrys is so fast-witted and such a sport that it's great fun trying to get a rise out of him, despite the fact that I have never succeeded in, as it were, beating him to the punch.
This time, talking about the
states of matter
– solids, liquids and gases – I intimated (no, let's be clear about this), I said that Today was good and solid, tea-dependent on liquid, but was rather over-abundantly full of gas.
I know I shouldn't make jokes. I'm no good at them. That was not only a rotten joke, it was wrong.
I would have no talent to keep up the clipped, precision pace of the Today presenters, as they range over the world from 6 to 9am. But of course, John, as usual, had that extra cylinder and put me down with a beautifully murmured "you are too kind". Ouch.
Physicists are widely regarded as the cleverest of people.
Again what struck me this morning was their heroic attempt to make things which are on the far edge of knowledge, and as arcane as alchemy, clear to me and, I hope, thereby to many of you.
The thing that strikes me as extraordinary about the top scientists we have on, and it was fully in evidence this morning, is that they are doing work for the love of doing the work, i.e. thinking about thinking for the sake of thinking, and yet now and then there's a twinkle which says this might turn out to change the entire world of communications, or technology, or manufacturing, or whatever.
And so it will. The gap between discoveries in universities and developments in industry is closing, and it's these people who, in a rather bewildered way, I sometimes feel, are at the centre of what we are now in – the full rush of the knowledge industry. And yet, paradoxically, they can only stay at the centre by ignoring the fact that they are part of any industry.
And so – London. A couple of days ago I walked from my house in North London to Lambeth Bridge to talk to David Puttnam.
About an hour and a half in fantastic sunshine, through three parks – Primrose Hill, up the hill (a test of puff), and then looking over London, a Dick Whittington moment (although he was two or three hills away to the east).
Then cutting a swathe through the grandeur of Regent's Park, down Regent Street itself and into the magnificent congestion of St James's Park, with rugby teams of young children completely blocking the path, but eventually being polite enough for the rest of us who would rather go forward than stand still all day (or, come to think of it, they might have the right idea). 
And this on a morning for which our mighty meteorologists had predicted Saharan sandstorms sweeping up the Thames. The Thames sparkled. The white daffodils in St James's Park looked white. The sky was blue. The sun shone brightly. 
I am so pleased that they know what the weather will be like in a hundred years' time. Now and then you feel that tomorrow would be handy.
Rather too much going on in television, with many new programmes and repercussions from Tony Hall's fanfare for the BBC's New Deal on the arts, and … even though I sit at a telephone some distance away, I can hear the accretion of impatience from Ingrid, who types these missives …
Best wishes
Melvyn Bragg
In Our Time: States of Matter